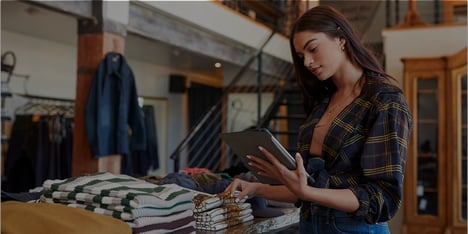 Excellent visual merchandising tells a story. It ensures that customers can't walk past your shelves without envisioning how your products are essential to their ideal lifestyle. Even if they walk past the shelves the first time, they'll be back.
According to NIBusinessInfo, the benefits of visual merchandising in retail range from increased customers and sales to extracting the maximum value from your retail space. But even though you know what visual merchandising is, and what your objectives are, it can be hard to carry out your mission with measurable metrics that show you're on the right track.
The right visual merchandising platform is essential for turning the entire process from an art into a repeatable, measurable science. If your company is implementing a visual merchandising platform for the first time or is switching to a new option, look for these five must-have features as part of your process of narrowing down your options.
1. Timely Reporting and Information
Visual merchandising trends move quickly; they also vary based on location, demographics of shoppers in the area, and season. Your central and field teams need up-to-the-minute insights into how different visual displays are performing, what products are selling well, and how customers respond to different layouts.
Without these key insights, your brand representatives and store managers will have to guess about what decisions to make and how to make them. But when you have displays for new products or are trying to prime customers for more sales during the busy holiday season, guesses are perilous. The wrong decision can drastically impact your bottom line, make merchandising less efficient, and even cloud the data you can gather after the fact.
What We Do
At ThirdChannel, we design our tools to prioritize reporting and information. The actionable insights our tools provide ensure you can continuously test displays, optimize stores, and make incremental improvements that drive more sales. Each store receives individualized scores and data so your team can track product-specific and store-specific results.
2. Data That Tells a Full Story
Today's businesses thrive on data. With the right platform, you can access comprehensive, detailed reports about store-specific performance, sales of specific product types, and more. Brand representatives need a granular view of their merchandising goals and display rules, while centralized product managers need a bigger picture view, so look for software solutions that can provide flexible, customized views to meet the needs of each role.
Without complete coverage of each store's performance, it's hard to present regional or national results in a board meeting or optimize merchandising strategies to meet the needs of your customers. Spotty data can also have your team drawing the wrong conclusion—with disastrous results for campaigns.
What We Do
By integrating ThirdChannel's merchandising software solution with your other platforms, you can track each product from warehouse to store to the customer with complete accuracy. All of these data points give you the insight you need to maximize sales for different type types and campaigns.
3. Focus on Things That Need Attention
The right software will also help you set priorities by registering which tasks are the most important and which assets have the most weight on campaign success and your sales quotas. In the field, brand representatives have to juggle setting up displays, ensuring the displays stay neat and appealing, and answering customer questions. By helping employees prioritize the most important steps, you can ensure consistent experience quality, even during the busy season.
With software giving your team real-time insights, they might guess what to prioritize or even make the wrong changes to displays. Busy stores need support to guide decision-making and ensure clear communication across different shifts and display areas.
What We Do
Our platform is designed to collect and assess data from stores and wider regions to provide insights. Your team can use the platform to determine what changes to prioritize, what optimizations to make to existing displays, and whether a specific store needs to make adjustments based on the performance of other stores.
4. Expose Customers to the Best Experience
All of these features are ultimately in the service of giving customers the best possible experience. It's not enough to have clean and tidy displays that advertise new products or best sellers. Instead, you need to have displays that make the products essential to each customer's ideal lifestyle, demonstrate the functionality and appeal of the product, and make it easy for a shopper to pick their preferred color or size in the product line.
A lot of different factors determine whether a customer will pick up a product and complete the transaction, so it's important to optimize the experience as much as possible. But brand representatives can't guess their way to the right answer, no matter how experienced or intuitive they are. They need clear insights and guides to maintain the visual experience without taking time away from serving and advising customers.
What We Do
Our platform is built to empower brand representatives on the sales floor. They can turn to the ThirdChannel platform for data-backed insights about product availability, key information to provide to customers at different stages of the sales cycle, and answers to common or complex customer queries. For example, our tool helps provide product recommendations to support the best possible user experience.
5. Optimize and Simplify Retail Operations
The ideal platform will simplify retail operations by sharing all of these insights in a clear, easy-to-understand format. It will allow users to focus on optimizing the customer experience by providing clear, relevant data and minimizing confusion. When brand representatives and store associates are on the floor, complex questions and the hustle and bustle of busy stores can make operations even more stressful. Look for a tool that clearly presents data, visual display models, and answers—this will lower frustration for both users and customers.
What We Do
Our software solution is flexible, with multiple different features you can choose between so you can give your brand representatives the data that empowers them the most. ThirdPlanning allows for easy field planning and management, simple retail execution tools for managing displays and collecting data, and dashboards that provide actionable data insights.
Gain These Five Features With ThirdChannel
Ready to add clarity to the results for your in-store and online visual merchandising?
ThirdChannel is here to help with a suite of visual merchandising software solutions that support every stage of the display, sales, and analytics stages of retail operations. Contact us today to learn more about our in-store and online solutions or to schedule a demo.