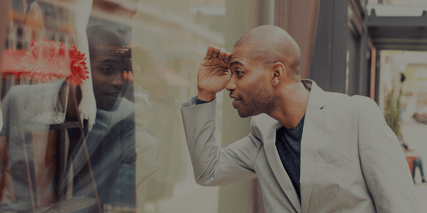 In-store shopping is all about the experience, and you get to craft the experiences your customers have, especially when it comes to visual merchandising. You can create beautiful displays of mannequins in the newest fashions, set up scenes of key products in use, or have interactive demos and displays.
In fact, focusing on visuals is one of the best ways to get your message across to shoppers, as visuals increase message retention by 42%.
However, choosing what message you want to convey and how to convey it matters more than ever, and relying on guesswork is dangerous. While retail visual merchandising first began as an art, today it's a science — backed by data, real-time insights, and a constant flow of information.
Keep reading to see how you can make sure real numbers drive your visual merchandising efforts.
Window Shopping: The Start of It All
Macy's set the standard for turning shopping into an experience. Since their first window display in 1874, they've been wowing customers with events and entertainment that transformed their brand into a household name.
While big, active affairs like the Macy's Thanksgiving Day Parade and other sponsored events might be the first thing you think of with Macy's marketing, it's the slightly quieter holiday window displays nearly 150 years ago that turned heads and changed how companies did business. Shoppers crowded through the street to see magical displays of gift items, luxuries, and winter goods artfully arranged in the picture-perfect display.
This did more than showcase new products. It created a beautiful, long-lasting image of the products in the best possible light. Since then, window displays have changed to show models and mannequins in beautiful clothing, camping gear within an artificial campsite, kitchen installations and appliances in decorated arrangements, and everything in between.
These displays allow shoppers to imagine themselves in the midst of life with those products. Today, window shopping displays achieve these important aims:
Get the attention of passing-by shoppers.
Create interest in new product releases and best sellers.
Inform shoppers about promotions.
Entertain audiences that aren't making a purposeful purchase but can be tempted to impulse buy.
Depending on their needs and mindset, shoppers might treat window shopping as their primary activity (in which case you can create new touchpoints and strengthen brand recognition) or a fun diversion that transitions into actual transactions.
In-Store Visual Merchandising
Successful window shopping displays get interested shoppers in the door. Now what?
You've already pulled in your target audience that is tempted to convert to paying customers, and you've filtered out shoppers that aren't interested in your products that day.
In-store visual merchandising continues the journey with engaging, beautiful, and slightly more functional displays. Shoppers can move further into your store to examine mannequins more closely, look at product variations in different colors and sizes, or engage with demos and brand representatives.
Rather than persuade shoppers to divert course and enter your store, visual merchandising should encourage shoppers to pick up products and consider buying them.
Some of the most important and tactical visual merchandising options available to you include:
1. Display Stands
These displays make use of vertical space to spread out goods and make it easier for shoppers to see the product details and find their ideal fit (especially for clothing). They can pick up items, feel them and interact with them, and add them to their carts. Good display stands are well-organized and frequently monitored so they aren't messy or unappealing.
2. Demos

It can be a challenge to break complex or novel products into the market. If shoppers don't know what something is, how it works, or any of the unique advantages it provides, they'll skip over it.

Demos are engaging, educational displays that answer questions about a product before shoppers realize they don't know the answers. Well-trained brand representatives can also draw the audience's attention and make shoppers feel connected to the products.

3. Assisted Selling

Sometimes customers need a little more help choosing the right products for themselves. They might be looking for sizing advice for formalwear, tools with specific requirements, or a bit of insight between two competing brands.

Brand representatives can do precisely that: these are well-trained, informed brand ambassadors that are familiar with your brand story, your products, and common questions customers have. They can make up your staff at direct-to-consumer stores or work alongside general retail associates at bigger retail stores.
All of these methods invite customer engagement and interaction so shoppers have a deeper connection to (and understanding of) your products. If they can comfortably ask questions, learn about the product, and ultimately see themselves buying and happily using it, you're much more likely to make the sale.
How Technology Is Changing the Game
In today's crowded, competitive marketplaces, it's not enough to create artful and engaging displays that your team thinks will be a perfect fit for your target demographics. That's now the bare minimum.
Instead, you need data that can fully inform every decision from the products on display to the exact phrasing and font in the displays. In-depth, continuously updated data starts off each campaign with a greater chance of success. It also allows you to make continuous tweaks and updates so your displays move into closer and closer alignment with customer needs and wants.
What Brand Reps Need to Succeed
Data is especially powerful in the hands of brand representatives. With real-time data from across your business platforms, they can answer customer queries in detail and solve problems faster. Key types of data they need include:
Inventory Insights: Do you have a specific product in stock? In the right size? In the right color? When brand representatives can instantly tell customers if you have the exact product they need in-store, the transaction has far fewer barriers. Even when the answer is 'no,' fast answers allow brand reps to persuade shoppers to have it delivered from a distribution center or pick it up in the store on a specific date.
Knowledge of Buyer Preferences: Brand reps can look up past transactions, identify purchases that complement each other for customer-centric upselling, and more. Brand reps can also use detailed buyer personas to arrange displays that speak to core customer groups. Brand reps can even use competitive intelligence to stand out from competitors.
Insight Into Consumer Interactions: Armed with real-time data, brand reps can anticipate follow-up questions, be forewarned about potential friction in the selling process, and know how to navigate through assisted selling scenarios to optimize customer satisfaction.
Make Data-Backed Decisions to Strengthen Your Retail Visual Merchandising Strategy
Today, businesses can't afford the margin of error that comes with guesswork or gut feelings. Tech stacks with integrated software that brand reps and store associates can use throughout retail locations allow businesses to better:
Create window displays and visual merchandising displays
Answer customer queries quickly
Develop rapport with shoppers
At ThirdChannel, our software and in-store support solutions can help your team use data insights for more efficient sales and on-point visual merchandising. Contact us today to learn more or to schedule a demo.