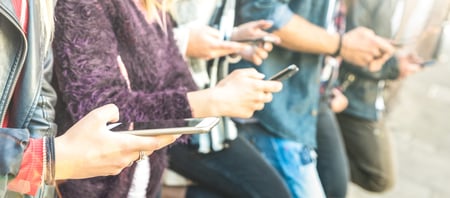 If you're deciding whether to prioritize in-store shopping improvements or upgrades to your online sales channels, you might be asking the wrong questions. According to the Aberdeen Group, companies with strong omnichannel customer engagement radically outperform those with weak engagement practices, at a staggering difference of 89% retention and 33% retention, respectively.

Omnichannel shopping experiences focus on blending input and experiences across multiple channels (including text-based promotions, in-store browsing, online price comparing, and more), and that's a very different approach from multi-channel shopping. As V12 explains:


In multichannel marketing, a company may use different channels to interact with the customer but each channel is managed separately with a different strategy. Omnichannel is centered around the customer and ensuring that customers can easily and seamlessly navigate between each company touchpoint to make a single purchase.
It may seem like data tracking is the core common element across omnichannel experiences. And while data is imperative, it's almost worthless without the right people. That's where brand reps come in and truly drive successful unified shopping.
What Is a Brand Rep?
Retail brand representatives are the people representing your brand both in the e-commerce and in-store environment. These people promote a brand's products through in-store demos, visual merchandising stands, and e-commerce chats. In every case, brand reps are intimately familiar with your products, passionate about your brand's values, and embody the personality of your brand.
Cutting-Edge Technology and Customer Engagement
Consumers control the decisions they make as they research products and make a purchase. With today's technology, shoppers can decide where to go, which businesses to trust, and how to navigate through each website. Some shoppers will browse through the catalog, and others will play with a product configurator or customizer if you offer one. Still, others will filter your catalog by color, product type, star rating, and their exact preferences, make the purchase, and leave. They evaluate pricing, choose their preferred delivery option, and can provide feedback.
While the exact path to purchase is something the consumer decides, you're building the world. For every customer decision, the resources, experience, and options you provide are what drive their assessments of your products and services. That means your organization needs to stay on the cutting-edge of disruptive technologies by:
Providing superior in-store, mobile, and online experiences and blending those channels for a complete omnichannel experience
Empowering customers with knowledge about your products and industry without overwhelming or frustrating them
Giving in-store brand reps real-time access to inventory and product data through mobile technology
Constantly analyzing performance through product, employee, and platform metrics
Read Consumer Behaviors and Trends With Next-Generation Retail Solutions
One core business technology is the development of next-generation business analytics tools. On a micro level, individual stores can gain better insight into popular products in their area and ensure the brand reps are knowledgeable about them. On a macro level, retailers can see trends in consumer pathways to making a purchase, optimize layouts for fast and satisfactory sales, and develop engaging marketing strategies based on data.
When companies think about data analytics and next-generation technology, they generally focus on online experiences and back-end quarterly projections. Stand apart from the crowd and bring these tools into the in-store experience, too, by empowering your brand reps.
What's the Role of Brand Reps in Omnichannel Retail?
Today's omnichannel retail world isn't about in-store brand reps vs. digital convenience, and thinking in terms of that strict division is dangerous for your brand. It's no longer a good strategy to have in-store shopping for shoppers that prefer it and online shopping for customers that instead prefer that experience. Consider the role of reps in these situations:
In-Store Retail
A shopper enters your store, looking for a hiking backpack. It needs to be durable, comfortable, and spacious enough without being too bulky. They can check all the stats and descriptions online, but they're just not sure if it's the right fit. This is where the right brand rep comes in. They can talk about the features in a way that fits the shopper's unique needs and interests. They can offer feedback they've heard from other shoppers, say how often people buy it, and reassure the shopper about your return or exchange policies. You may even have a brand rep who's bought that exact same backpack for themselves.
In this scenario, the brand rep is synthesizing a mix of in-person information and business analytics, repackaging it to fit the customer's needs and making the sale. Here, the narrative and personal components are crucial.
Online Retail
This shopper is researching, comparing, and buying entirely online — it seems like your brand reps have no involvement here. But their collections of business data inform what recommended products show up in the sidebar. If your shoppers ever choose in-store pickup or decide to exchange their products, brands also play an important role in the tone and overall experience at the end of the shopper's journey. Their knowledge, efficiency, and ability to help shoppers make suitable exchanges or get what they need quickly make all the difference in if the customer will be back.
Mobile Retail
"Mobile retail" is a bit more nebulous than the other two shopping categories because it can happen anywhere, in any form. You may have shoppers comparing products on their phone while in your store, browsing during several interrupted sessions on their mobile device, or coming into your store because your mobile website said you had a specific product. When mobile websites and in-store experiences intersect, your brand reps need to have real-time insights so they aren't playing catch-up with what's on your shopper's phone.
Brand Reps Must Be Go-To Product Experts and Specialists for Your Customers
Brand reps can best serve shoppers and enhance the customer shopping experience by being product experts — about both the products themselves and your store's ability to fulfill orders. Take these steps to empower your reps:
Use Mobile Solutions to Give Brand Reps Real-Time Insights
Easy-to-use software can help brand reps know exactly what your store has in stock, where it is, and what options are available if your store is out. They can also find comparable products, know what promotions are active in your store, and have insight into any variables a shopper may introduce. With this tool, brand reps aren't dependent on the details a shopper has pulled up on their phone. They can move faster, offer a smoother shopping experience, and provide value.
Capture Data About Performance and Productivity
In-person retail has always been a black hole when it comes to the details of how shoppers behave beyond what they buy and when they buy it. With advanced attribution tools and logs of brand rep engagement, your team can see every detail. Assess the performance of individual reps, individual products, and individual locations. You can use these insights to streamline in-person customer assistance or adjust store and website layouts.
Empower Your Brand Reps With Better Omnichannel Retail Tools
Brand reps aren't fading out of the sales cycle. In fact, they play a vital role in ensuring in-person and omnichannel shoppers have a delightful experience and building a stronger brand reputation for your store. But to get that synergistic performance, you need to have the tools and real-time analytics platforms brand reps need to provide that excellence.
Contact our team or browse our suite of tools and mobile business solutions at ThirdChannel so you can empower reps, get more data, and exceed shopper expectations.