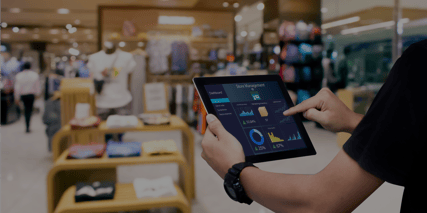 In highly competitive retail markets, it's not enough to offer superior, longer-lasting, more convenient, or more durable goods. Instead, you need to create an entirely unique and pleasing retail experience so your customers remember you fondly and return to your products.
But standing out from the crowd is tough when you don't know what the crowd is up to. A recognizable brand identity that drives every element of a shopper's interaction with your brand will create a deep level of familiarity with (and preference for) your brand.
Enter competitive intelligence.
According to Small Biz Trends, "94% of businesses are planning to invest in competitive intelligence. With a large-scale number of companies seeking data-based solutions for their business ventures, the only way to stay afloat is to join in."
That's your first plunge into competitive analysis: you know your competitors are doing it, and joining in is essential for staying competitive, let alone leading the market. Let's explore a few more ways competitive intel is crucial for retail success and what you can do with this new avenue of insight.
Retail Has Never Been More Competitive
No matter what area of retail you're in, there are multiple competitors vying for your shoppers' attention. First, you have large national and international brands that have a long history, a vast distribution network, and a large budget for improving retail operations and visual merchandising.
You also have regional competitors, organizations that are approximately your size and are vying in your geographic region with many of the same branding, values-based, and thematic elements as your own organization.
Finally, you have eCommerce competitors: organizations that operate entirely online and double down on convenience, personalization, and intuitive online sales. All of these competitors are constantly trying to reach shoppers that fall into the same buyer persona buckets as you, and many of your competitors will be following the same general branding strategies as you.
This level of competition doesn't necessarily mean there's not enough room for all of you. Instead, retailers are seeing a lot of success in refining their strategies to focus on creating a brand and customer experience that aligns perfectly with a shopper's wants and needs.
However, to find your own place in the market, you need to know what your competitors are already zeroing in on, where your brand fits in, and where your competitors are weakest so you can become a stronger alternative.
What Is Competitive Intel in Modern Retail?
Competitive intelligence is made up of all of the data and information an organization can gather about key competitors within their target market. This can include knowledge about general business strategies, upcoming product releases, planned promotional campaigns and sales, and even customer feedback about those competitors.
Both the act of collecting the data and the act of analyzing it to find actionable nuggets of critical information are vital components of a competitive intelligence strategy.
Analyzing information about your competitors can reveal opportunities for growth, areas in which your competitors are outperforming you, and more information about the business environment itself. Today's retailers can use a variety of competitive intelligence tools to:
Monitor in-store retail and visual merchandising tactics that attract or disinterest potential customers
Gather raw data from sources ranging from third-party review sites to social media to press releases
Filter through and analyze that data to find key patterns and insights
Receive recommendations about critical opportunities from competitive intel tools powered by machine learning or artificial intelligence


With Competitive Intel, You Can...
Competitive intelligence is a broad area, nearly as broad as 'data science' or 'marketing' itself. Gain a better understanding of the strategic advantages of using competitive intel by imagining these key use cases:
Monitor Brand Performance Compared to Competitors
Ultimately, you need to know how your brand and specific products perform relative to competitors. These metrics are the strongest indicators of success or failure in hyper competitive markets; it's not enough to simply know if sales are going up or down.
With competitive intelligence tools, you can monitor how your competitors are performing across top retail locations, identify patterns in success between you and other companies, and develop a baseline against which you can test visual merchandising strategies and promotions.
Improve Product Offerings
If you notice a large or growing gap between interest in your products and the products of a more popular competitor, it's time to make improvements. But wasting time testing different initiatives or making modifications that don't change buyer behaviors gives your competitor time to widen the gap.
Instead, use competitive intelligence to hone in on why your competitors are outperforming you and how you can course correct.
Conversely, if you see your products surging ahead, you can identify what you're successfully offering customers that competitors aren't. Zero in on those advantages to become the dominant retailer with that product type, service package, or degree of customer interaction.
Restructure Visual Merchandising Stands
When all signs indicate that your products and business are better than a competitor's, but their in-store performance is still stronger than yours, that can be frustrating. But competitive intelligence can give you the insight to resolve the contradiction.
Use competitive intelligence to restructure your displays, layout, and merchandising stands so you provide optimized shopping experiences that more closely compete with — or even outshine — others.
Improve Brand Rep Training
In-store shoppers may not always stop to appreciate great customer service, but they'll certainly notice inferior customer service. Through competitive intel, you can see how your customer service and customer experience metrics compare to other retailers in your niche. Then you can deliver more targeted training to your brand reps so you maintain a clear lead or quickly close the gap in areas of low performance.With
Stand Out From the Crowd With Strong Competitive Intelligence Through ThirdChannel
Through competitive intelligence tools like ThirdChannel, you can see where you're outperforming competitors on branding so you can widen your leads, or where your branding and merchandising are falling behind so you can catch up.
Ultimately, we want to help you more objectively weigh your next steps to strengthen your brand's performance. Ready to experience the difference for yourself? Schedule a demo to get started!