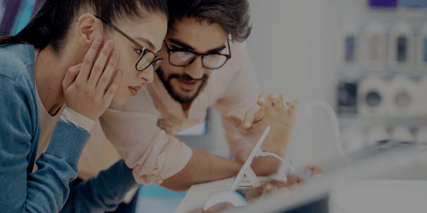 Online sales statistics dominate the headlines, but in-store sales are more important than ever. Shoppers continue to return to stores in droves, and they're looking for a great retail experience.
While omnichannel sales and a robust online presence are crucial, under-investing in your brick-and-mortar stores will make you miss important sales opportunities. In fact, according to BusinessWire, in-store sales are higher than their pre-pandemic levels, with a 13.7% growth from 2019.
To capture these in-person sales, your company needs to provide excellent support, engaging visual displays, and memorable experiences. Retail field support from ThirdChannel can help you do precisely that by examining your data, training your associates, and creating a plan to optimize your in-store sales.
What Is Retail Field Support?
Before you can reap the benefits of retail field support, you need to ensure you're getting the right type of support based on the type of store you have and what your customers expect. Is your store a retail store or a direct-to-consumer store?
Retail Stores
Retail stores stock and sell goods that don't just belong to their specific brand. Some common retail stores are Nordstrom, Dick's Sporting Goods, and Target. These retail locations may sell their own product lines, but they largely operate as a third-party marketplace where shoppers can find and purchase goods from a wide variety of different brands.
Because multiple different brands are housed under one roof for shoppers to browse, these locations need two types of support:
Retail Associates: These are customer service representatives hired by the retail store — the Nordstrom of the equation — to provide excellent customer experiences. Their job is to ensure shoppers enjoy visiting the location and come back to shop again.
Brand Representatives: These professionals represent specific brands and product lines sold at the retail location — the Adidas of the equation, for example. Their job is to focus on their specific products and help secure customer loyalty to your brand, not the retailer in general.
A retail associate might help a customer find a specific department or check out a product, but a brand representative will help a shopper recognize how their products will address the shopper's needs.
Direct-to-Consumer Stores
Direct-to-consumer stores sell only their own products. The retail location is simply an outpost of the brand's distribution system. Adidas, Stuart Weitzman, and more are all direct-to-consumer stores. Here, retail associates double as brand representatives because there is only one brand to represent.
Retail support is essential in both types of stores to optimize customer experience, increase sales, and boost your brand's reputation.
Field Support and Revenue Generation
Our visual merchandising and in-store sales processes are carefully designed to maximize sales and optimize customer experience by showcasing your brand's products in the best possible light.
This process starts with field planning to set objectives and develop the strategies and support teams you'll need. It continues through retail execution and a continual process of examining actionable data insights so you can refine your processes for stronger and stronger results.
Eight In-Store Features of Field Support
A vital part of this process is in-store optimization. Even the strongest plans need field support for fast, nuanced changes. The eight features of in-store field support we offer are:
1. Inventory Management
With a robust inventory management system, you can get real-time insights into what products are being purchased at which locations. You can also know when it's time to order more through low-inventory alerts, see which products are purchased together, and track the demand for products at different locations throughout every season. This helps you have the inventory levels you need to satisfy demand without overstocking.

2. Visual Merchandising

Shoppers visit in-person stores so they can develop a better understanding of the product. Seeing goods in person makes all the difference for clothes, household goods, and dozens of other products.
Feature your products in the best possible light with appealing in-store displays. Field support teams can help you test new display configurations, adjust small details, and monitor product placement for stronger branding.

3. Consumer Engagement

Shoppers also visit in-person stores for in-person support. Disengaged or unhelpful store associates can ruin the experience and turn customers away.
Our brand representatives are trained to engage with shoppers, be able to answer their questions and proactively solve their problems, and ensure more customers leave your store satisfied.

4. Associate Training

Develop your own in-store support staff through excellent associate training from brand representatives. Not only do associates need to know the mechanics of operating the store, but they also need to be able to engage with shoppers. This includes:
Having an understanding of brands and product lines
Having insight into inventory levels
Creating rapport with shoppers
This starts with training that empowers and energizes sales associates.



5. Demos and Assisted Selling





Expose new shoppers to your products through successful demos and sampling. When brand ambassadors can hook a shopper's attention through enthusiastic demos and get them invested in a new product, that shopper is much more likely to make a new purchase and develop a lasting relationship with a new brand.

6. Competitive Intelligence

See how your products are performing compared to your competitors in competitive retail landscapes. Through competitive intelligence tools, you can see where other brands are excelling, what strategies you can develop to remain competitive or shoot ahead of the competition, and identify holes in the market. Retail analytics of all types are essential in today's selling market.

7. Store Profiles

Every store in your system has a different profile based on its location, regional factors, adjacent stores, and more. It's important to look at each store individually so you can develop the right strategies for each one. You can also compare store profiles against each other to identify opportunities for improvement and high-performance locations.

8. Visit Details

Transaction details aren't enough to fully optimize the in-store experience. With more in-depth data, you can see what barriers are preventing shoppers from completing a transaction, how to encourage more sales through better displays or service, and what tactics work best.
Get the Retail Field Support You Need With ThirdChannel
ThirdChannel is your go-to service for retail field support, in-store merchandising tools, and more. Our commerce management software solutions are built to help you understand your brand's reputation and make it stronger than ever. Contact us today to learn more.