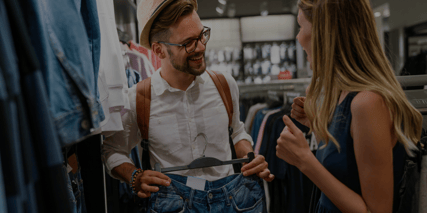 Getting your products in front of customers — in the right way — is an increasingly complex process. Do customers have the same experiences in direct-to-consumer locations as in retail locations? Are they getting the help and product options they need? What friction points are making customers go to your competitors?
According to Adobe, "More than half (54%) of retailers said the customer experience is their most important area of focus." But great customer experiences require a wide array of different strategies and solutions, from how you display your products to how your associates help customers with complex questions.

Keep reading to see what the top brands are doing to refine customer experiences and improve their sales metrics through field merchandising.
4 Proven Field Merchandising Strategies
Building up your playbook of field merchandising strategies and tactics can help you react to different sales scenarios faster and create the ideal displays for both your products and your market. Consider these four deep dives into specific strategies that companies used to optimize their processes.
1. Integrated Inventory Management
The What:
Today's inventory management demands go beyond knowing what products you have in stock at your store. You also need to know the movement of goods and orders across the entire supply chain, demand across both in-store and online channels, and the status of returns, exchanges, and resells. With a modern inventory management system, store owners can see the inventory of hundreds of individual locations and even inventory trends over time.
The Who:
Herschel Supply Co. implemented these integrated systems that allowed them greater insight into the inventory levels of all of their products across hundreds of retail sites.
The Impact:
This provided better visibility throughout the organization. Stakeholders could proactively adjust stock levels to meet changing trends, see which stores excelled, and create processes to reduce inventory loss. One of the biggest impacts this company saw was the ability to move inventory from backstock and storage to visual merchandising displays and store shelves quickly, accurately, and more efficiently.
2. Unify Direct-to-Consumer (D2C) and Wholesale Strategies
The What:
Today's stores use a multitude of retail, D2C, and wholesale selling processes to sell goods across multiple channels. But unintegrated D2C stores and retailers that can't communicate are inefficient. With a unified platform, store operators have more tools for collecting data, can route products to their stores to meet demand more efficiently, and can create a more consistent brand experience for customers.
The Who:
Adidas crafted a strategy to align direct-to-consumer and wholesale retailer strategies so these two methods of sales used the same tools, training materials, and inventory solutions.
The Impact:
Adidas identified weaknesses in its D2C and wholesale strategies that could be addressed through the same tools. For their D2C locations, they established a visual excellence program that used data-based insights to create displays that better aligned with customer expectations and preferences. The same data was used by brand representatives sent to retail locations to improve merchandise displays.
Both types of locations benefited by using the same data tools and data sets so consumers could experience consistent experiences in both types of locations. Once the stores aligned their displays, they were able to provide a stream of new data that all locations could use to further refine displays and merchandising strategies.
3. Combine People and Technology
The What:
Employees need access to technology solutions they can use to set up merchandising displays, track inventory in real time, and answer customer questions. Integrated technology systems that can be accessed at any location and even from mobile devices give retail associates and brand representatives that access.
The Who:
Tapestry, a collection of modern luxury brands comprised of Kate Spade, COACH, and Stuart Weitzman, implemented a program that carefully selected brand representatives with a passion for Tapestry brands and product lines. They then provided tools that allowed passionate brand representatives to serve customers with better insights and provided metrics for omnichannel sales.
The How:
Each luxury brand implemented slightly different strategies under the umbrella of combining people and technology. First, all of the brands looked for brand representatives that were already passionate and informed about their products. This personal insight allowed the brand reps to know customers' pain points, the key selling points of different products, and the small details of different product lines and feature options.
With a foundation of informed and energized employees, the brands could then use an integrated inventory solution to pursue different goals
COACH: This brand prioritized real-time inventory data to serve customers faster and the ability to assess sales performance across different locations to refine different strategies.
Stuart Weitzman: This brand prioritized live chat across online and eCommerce channels for personalized, expert support. This facilitated more online sales and higher customer satisfaction.
Ultimately, all three brands could collect more data to set KPIs, track important sales metrics, and identify their conversion rates and overall ROI for new initiatives.
4. Train Retail Associates
The What:
It's not enough to have data or provide technology for new brand reps or retail associates. Instead, it's important to dedicate time to training employees on products, merchandising tools, and sales processes.
The Who:
Bose emphasized data-based training for better brand representation across hundreds of retail locations across the United States.
The How:
Bose and ThirdChannel partnered to send over 100 field agents to Best Buy and Target stores with Bose products. Across three months, these field agents used the platform to gather data about product and customer interactions, analyze the impact of different types of interactions, and identify potential changes.
The field agents then provided in-depth training programs and action plans that current and future retail associates could use to provide better experiences and sell more products.
At the same time, the field agents could use insights from competitive intelligence and changes in sales performance due to the training to refine the programs.
Bonus: Don't Forget About eCommerce Marketing!
The What:
Both in-store and online sales channels are vital for today's brands. One of the best ways to bridge the gap between online and in-store customer experiences is through a managed live chat system that allows customers to speak with knowledgeable brand representatives.
The Who:
TaylorMade switched from using an AI chatbot to a live chat system that paired complex customer queries with experienced representatives that know about both TaylorMade products and golf.
The How:
ThirdChannel helped TaylorMade personalize its online communications with customers. Instead of relying solely on AI-generated answers, shoppers could converse with experienced golfers to get more valuable insights and advice regarding specific products and use cases.
Master Your Field Merchandising Solutions With ThirdChannel
ThirdChannel is here to help you learn more about your current processes, select new initiatives with the biggest potential impact, and refine your merchandising processes with data-backed changes. Contact us today to get started.