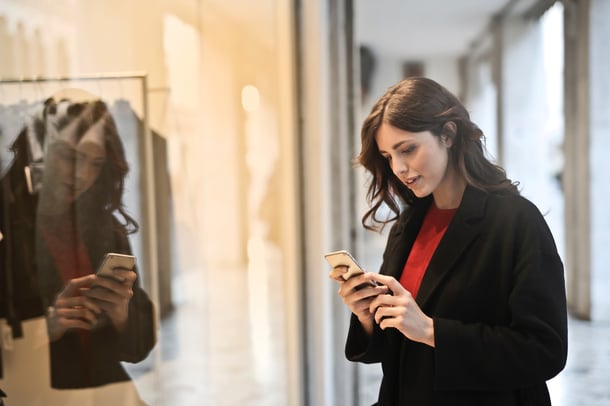 In any line of business, new trends need to be carefully assessed before they make their way into your process. Every new platform needs to prove itself through ROI and brand new practices must be trialed, tested, and tweaked until you know they're worth your time.
Luckily, the numbers are in for one of those new trends — omnichannel commerce. According to Aberdeen Group, "Companies with extremely strong omnichannel customer engagement retain on average 89% of their customers, compared to 33% for companies with weak omnichannel customer engagement."
Today's businesses are growing their omnichannel marketing and omnichannel support services into a rapidly growing system of omnichannel commerce. Shoppers want to be able to browse online, check out products in the store, and make the final purchase wherever it's most convenient for them.
If your business is not fully capitalizing on omnichannel initiatives, it's time to make the shift before it's too late. Keep reading to learn more about the dangers of not building up your omnichannel commerce approach, how omnichannel is continuing to evolve, and what to expect in the future.
Life Before Omnichannel Commerce
Long before omnichannel, there was simply in-store shopping. Whatever selection was available on the premises was what customers could choose, and if shoppers didn't find what they were looking for, they had to go to another store or wait. This method had obvious inefficiencies and relied on customers being flexible with their needs.
Customers of past decades may have been willing to wait or choose the next-best option at a store 20 minutes away, but that approach is no longer acceptable by the shopper of today.
Even in the heyday of traditional retail, businesses were trying to come up with other options. The Sears, Roebuck and Co. catalog permanently etched itself a place in history for being the closest equivalent to online shopping before the Internet was even available. Magazines, radio ads, and call-in orders were all used to fill in the gaps for special orders and to reach shoppers in rural areas far away from shops. These weren't perfect solutions, but emerging technologies and faster transportation were starting to fill in the gaps.
In the early (but not so long ago) days when online shopping became available to consumers, it was wholly distinct from in-person shopping. Shoppers could browse a catalog, but they had no guarantee it reflected the goods in their nearest store. If they purchased a product and didn't like it, they had to return it through the mail. In-store staff couldn't help with online processing questions, and online and over-the-phone support could only provide partial assistance.
With everything so segmented, customer frustration was high, and customer satisfaction was low. However, online shopping was still making great strides toward transforming the process into a more cohesive, intuitive, and integrated experience. Eventually, the processes merged to offer a bit more comprehensive support. But before omnichannel concepts really took off, people often had to stick to their preferred shopping channels and only deviate from them in the event of an emergency or for special orders.
How It Hurts Shoppers
The pre-omnichannel world put shoppers constantly wanting and expecting more from retailers.. Some of the inconveniences (and outright problems) for shoppers included:
Unpredictable unavailability
Limited selection and options
Lots of manual searching and waiting
No sense of connection with a brand
How It Hurts Brands
Brands also suffered for not being able to give customers exactly what they wanted. Some of those problems included:
Extra costs for rushed orders that may or may not have been in demand when they arrived on-site
Customers leaving their store for a neighboring competitor with the right product
A completely dark funnel with no insight into customer demand and trends
Inability to create a constant series of interactions to strengthen the customer relationship
The Rise of Omnichannel
Omnichannel retail is all about allowing shoppers to start or continue a shopping process from any device, location, or platform — in-store and online — with a completely seamless experience. Let's take a quick look at why it's so popular.
What Is Omnichannel Retail?
The primary focus of omnichannel retail is on seamless accessibility. In omnichannel retail, businesses offer seamless transitions across different touchpoints so shoppers can continue their buyer's journey across a website, a physical store, and social media without having to repeat any steps. Today, the barriers between in-store shopping and online shopping are all but gone.
Shoppers can purchase something online and pick it up in a store. They can browse store shelves to find the perfect new product, order it from their mobile device after checking out a few reviews, and have it delivered to their home. Both the COVID-19 pandemic and a growing demand for convenience have led businesses and shoppers to rely on the omnichannel approach.
Looking Into a Unified Future
All of the recent developments in omnichannel retail means it's become a baseline requirement for creating a good shopping experience. If you don't have robust omnichannel retail strategies in place, customers might not come back — even worse, they might not be able to find you in the first place.
Once you have omnichannel retail processes in place, you can power even more sales by adopting a unified approach to commerce. This builds on the omnichannel methodology by providing your team with real-time insights into customer traffic and buying trends, your available inventory across dozens of locations or warehouses, and each salesperson's results in the short term and long term.
This approach is the essential next step to removing any lingering silos between the in-store and online experiences you offer.
Streamline Your Omnichannel Commerce Efforts With ThirdChannel
Omnichannel commerce is a growing phenomenon across every sector of business — both in B2C and B2B markets. When you can seamlessly interact with shoppers across all the platforms where they spend time, you can build stronger relationships and stay top of mind when a shopper is ready to make a purchase.
At ThirdChannel, we specialize in helping retailers and sales organizations grow by adopting the right trends and best practices. Contact us today to learn more about our services and take the next step from omnichannel commerce to unified commerce.