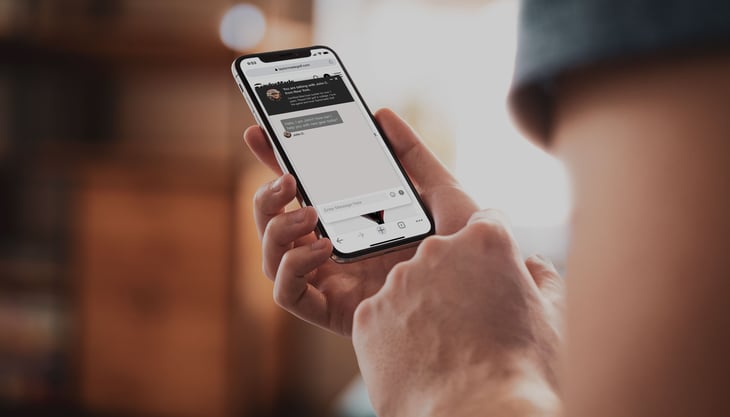 Customer experience has never been more important in the consumer decision-making process. As global eCommerce business continues to rise, savvy organizations stand to benefit greatly from providing quality customer experiences.
Online shoppers will look elsewhere if you don't provide an outstanding customer experience. Customers are more likely to make a purchase when they get faster response times, answers to common queries in real-time, and a seamless shopping experience. Integrating an eCommerce customer service solution is the best way to address this shift in buyer expectation.
Choosing the Best eCommerce Customer Service Solution for Your Business
In this highly competitive online retail arena, excellent customer experience remains essential to winning people over. Investing in an exemplary eCommerce customer service solution puts your team in the best position possible to deliver an exceptional customer experience. However, choosing the best customer service software for your eCommerce business can be challenging.
To help you select the best eCommerce customer service platform for your business, we'll walk you through five must-have features that improve your customers' experience and make them lifetime advocates for your brand.
Managed Live Chat
First, you must have a managed live chat solution that allows your customers to interact with real people in real-time. Managed live chat provides an authentic human feel, which goes a long way towards making the customer feel valued. Too often, customers who need help when shopping online struggle because:
Chatbots are automated entirely and do not provide real support from human beings.
A brand's customer service offering is stuck in the past, utilizing slower forms of communication (call centers, emails, etc.).
Managed live chat is powered by a human who interacts with potential customers when prompted. This solution allows online retailers to communicate directly with their customers online and build relationships.
In this age of instant gratification, the ability to engage with your customers directly in real-time reinforces the fact that the brand cares about its customers, which goes a long way in increasing sales.
Brand-Matched Advocates
To truly help customers, your customer service representatives should know the brand and the product inside and out to innately know the most appropriate response when interacting with customers. Therefore, the people behind the managed live chat should be passionate users of your brand's products.
Since they actively live your brand's lifestyle, ethics, and values every single day, they can represent everything your brand stands for. When these are the people responding to customer requests, they can actually create meaningful relationships with customers.
Otherwise, your customer service reps will likely struggle with their product knowledge and feel less enthused about the brand, which can have an adverse impact on sales.
Chat Routing
Chat routing is a feature designed to help you to prioritize and route incoming chats to the right brand reps using various pre-defined conditions that are easy to set up. You can set these markers based on a number of indicators, including:
The type of customer on your website (i.e., new, returning, etc.).
The question you get from the customer.
Location the customer is accessing your site from.
Where the customer is in the buyer's journey.
Why is chat routing important? Online shoppers need assistance at different points in the customer journey. Some may need help differentiating between two similar models of products at the end of the journey, while others don't even know what product they need in the first place.
Optimized chat routing directs inquiries to the right brand representatives who are best able to solve a customer's problem, further improving customer experience and driving sales. Chat routing also improves customer service efficiency by saving your brand reps time.
Reporting & Data Delivery
The right eCommerce customer service platform should have a reporting & data delivery tool. Managers need to have insight into their brand representatives. This feature will help you keep track of employee productivity, customer satisfaction, and emerging trends, all of which have a significant impact on your bottom line.
These insights will help you make better decisions, improve your processes, and understand how your team is performing. Some examples of the data you can derive from customer service reports include:
The number of requests received per day, week, or month.
The number of requests each brand representative is closing.
Average customer satisfaction score.
Revenue generated by brand rep.
Average response time and resolution time.
With access to this data in real-time, you can then use it to optimize your team's performance.
Conclusion
Customer experience can make or break your eCommerce business. Online retailers can leverage the power of eCommerce customer service software to deliver flawless service and maintain happy customers. The best eCommerce customer service solution is one that can accommodate your business' unique needs and requirements.
At ThirdChannel, we are committed to delivering a premium consumer experience across wholesale, retail, and digital environments. Our eCommerce customer service solution is powerful, easy to use, and driven by skilled, passionate brand reps. Ready to experience the difference for yourself? Schedule a demo to get started!