Last week, Kleiner Perkins Caufield & Byers partner Mary Meeker shared her annual Internet Trends Report. Interestingly, this highly anticipated commentary on all things internet has some strong implications for those in the retail industry looking to leverage the power of in-store. In the report, Meeker evaluates everything from what in-store technology is going to take off to what consumers want from customer service interactions. Along with analysis, the report includes hard data on these and other trends happening in brick-and-mortar.
Here's what brands and retailers should know from Meeker's 355 slide presentation:
1. The Rise of hyperlocal targeting will increase foot traffic
According to Meeker, the growth of hyperlocal marketing technology like xAd—which identifies consumers' points of interest (like the local Starbucks) and turns these spots into data points that can be used to strategically serve relevant digital ads—are set to make a splash in the coming year. Retailers and brands that invest in this technology will reap the benefits of scenarios where a consumer might be served a coupon if there's a Dick's Sporting Goods in route to the gym. Ideally, brands and retailers can use the data these technologies collect to increase foot traffic.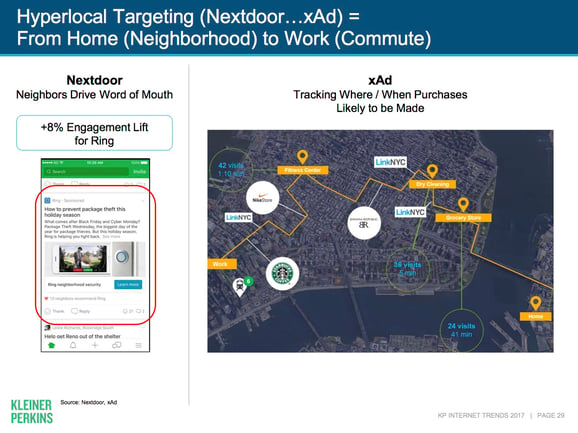 2. Augmented reality is poised to add to the in-store experience
As Meeker sees it, augmented reality (AR) is primed become more ubiquitous in stores. The report spotlights Lowe's AR app—created in partnership with Google—which guides consumers through store aisles to specific products they're seeking. This is an important improvement to the in-store experience that aligns with consumer demands for the future of retail. In a 2017 survey from the International Council of Shopping Centers (ICSC), 54% of consumers said that by 2020 they want in-store technology that could provide them with store maps that make it easier to locate products. Other AR executions in stores—like virtual windows—are already a valuable marketing tool to attract passersby into stores.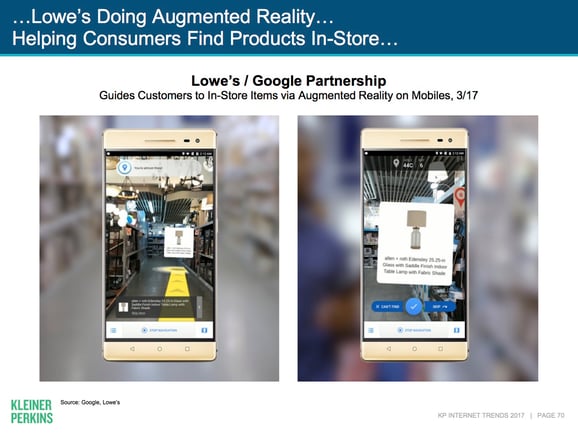 3. Online-offline synergy is the future of unified retail
It's what Meeker refers to as the "digital-physical feedback loop." Brands like men's apparel company UNTUCKit and professional women's apparel line MM.LaFleur approach online touchpoints as opportunities to drive shoppers into brick-and-mortar which, in turn, does its part to drive in-store shoppers back online. Hence, feedback loop. Each touchpoint, whether it's an in-store appointment or an online survey, should be seen as a chance to collect data about a shopper. This data improves the personalization between brand and consumer at the next encounter and encourages consumers to return as they feel as though the brand understands who they are and can anticipate what they want both online and offline.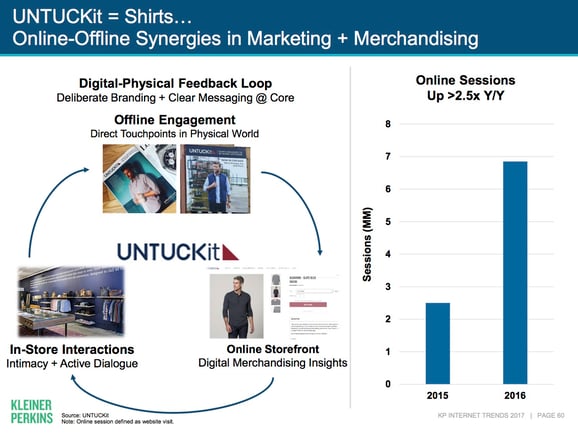 4. Deliver a new brick-and-mortar experience or perish
Despite announcements of store closures from Macy's and J.C. Penney, retail is thriving and finding new ways to enliven brick-and-mortar proving retail isn't dead—it's just different. For starters, online brands and retailers are heading offline. Amazon, Warby Parker and Bonobos are just a few of the ecommerce companies experimenting with brick-and-mortar—opening physical stores across the country. To enhance the in-store experience, brands and retailers like these are bringing new activations into brick-and-mortar. In Warby Parker shops, consumers can complete an eye exam and read the latest book titles while looking for their perfect pair of glasses. Simply put, surviving brands are catering to the changing demands of consumers who want stores to be more than just places to pick up things on a list. They're transforming into experiential shopping locations where consumers can talk with knowledgable store associates, learn about the brand and product and even engage with other like-minded shoppers in a welcoming environment that doesn't look or feel like the monotony of the stores who fail to raise the bar and to adapt.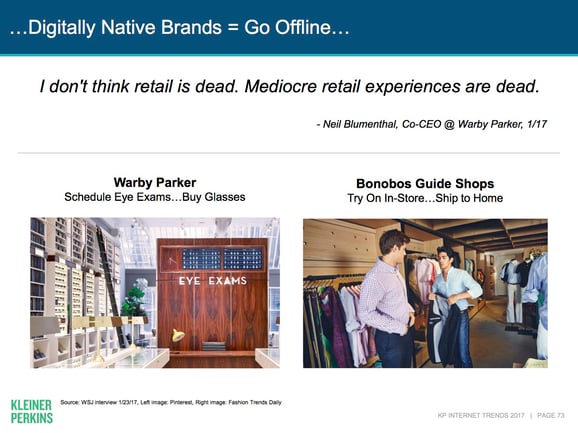 5. On average, retail leads the pack with cloud-enabled app usage
Consumers are increasingly expecting mobile integration in their brick-and-mortar shopping experiences and retailers have obliged. According to a study from Netskop cited in Meeker's report, retail is the leading vertical for number of cloud apps used. Meeker theorizes the overall growth of cloud-based services across all verticals is likely because cloud-based apps have become less expensive to build and easier to integrate into established, legacy systems. The growth of cloud-based apps in the retail sector could be attributed to a high rate of consumer engagement. The above-mentioned ICSC survey found 71% of consumers have multiple retailer apps and 86% of millennials open at least one of these apps weekly. While this is proving to be a valuable way to reach consumers and improve the in-store experience, brands and retailers should be cautious of what kind of data their apps are collecting as the report also warns that apps are harder to keep secure and may continue to be a vulnerability at their current adoption rate.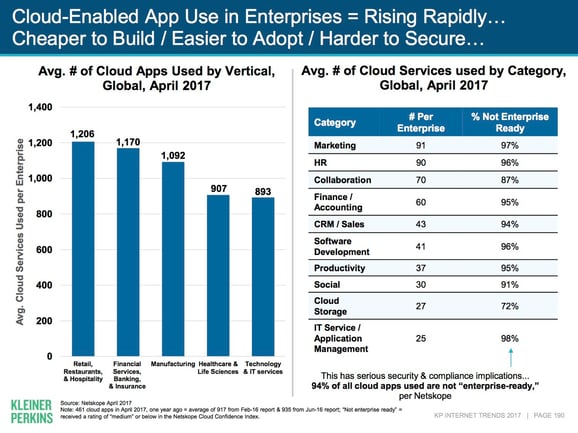 Meeker presented the Internet Trends Report 2017 at Recode's Code Conference on Wednesday. Check out the full report for further insights on the future of retail and the internet.