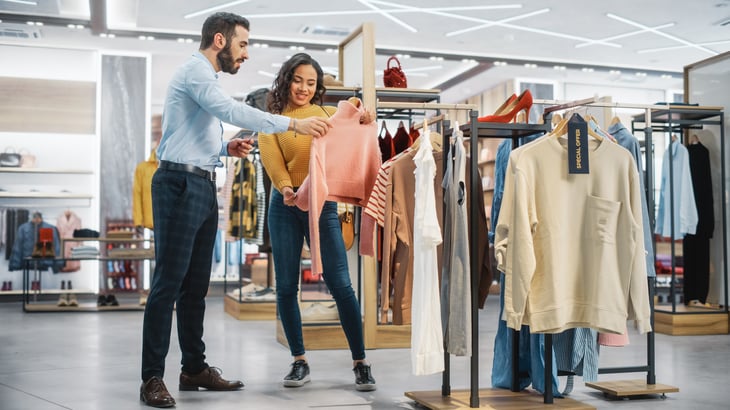 Attracting customers to a business is great. But you know what's better?
Creating an amazing customer experience! According to a survey by PwC, positive customer experience is 65% more likely to influence the customer purchase decision. Keep in mind that currently, customers do most of their window shopping online and prefer visiting a retail store once they are ready to purchase.
While at the store, customer experience plays a vital role in determining whether or not the customer buys a product. Why? When a customer walks into a retail store, they expect to get a product that matches their tastes and preferences to the highest level possible. Moreover, they expect to interact with enthusiastic and knowledgeable store associates with exceptional customer service skills. Most importantly, there is a thin line between what the customer already knows about the business and its products and what they experience. That determines whether a retailer makes or breaks it in sealing the deal.
Using Product Demos to Enhance In-store CX
One of the best ways to meet customer expectations and impress prospective and current walk-ins is by conducting in-store product demos. Interactive product demos help alleviate any fears and doubts a customer may have regarding a particular product or group of products. That's because demos boost customer confidence by adding to their product knowledge, thus increasing the chances of buying the product and, consequently, driving higher sales.

Generally, tremendous effort is needed to win over prospective customers to convert them from casual browsers to active buyers. However, once they become active customers, retaining them necessitates continuous product demos that incorporate up-selling and cross-selling to encourage them to buy new or more expensive products.
Leveraging Personalized Product Demos for Better CX Outcomes
Different Customers have varying brand perceptions. So, for a retailer to offer the best in-store customer experience, they need to narrow down to the needs and perceptions of each customer.

When a customer turns up at a store, they present an excellent opportunity for an in-person touchpoint for the retailer to understand the customer better. If the customer has had an interactive session with a brand ambassador before, the better because the ambassador already knows what the customer needs.

To the customer, a personalized demo feels more engaging and authentic. It brings about new revelations about the product, making them more curious and likely to end up in a purchase. Custom demos also give the customer precise answers to queries and hasten the purchase decision-making process.

Remember, by walking into a store and enquiring about a product means that a customer is at the tail-end of the buying decision-making process. Therefore, making an intelligent interactive product demo can quickly flip the odds in favor of the business. It's a clever way to enhance product and service differentiation and gain a competitive advantage in the market.

Personalization of demos not only makes customers want to buy the products but also helps brand ambassadors gather valuable insights from the customers and build long-term personal relationships with them. It aids in building trust and contact with customers resulting in personalized bonds and attachments to the product and increased customer referrals.
How Competent are your Brand Ambassadors?
Besides personalized product demos, another critical area to focus on is the technical and people skills of the demonstrators. A customer will often be unable to tell whether or not a brand representative really understands the business and product.

64% of customers purchase if a company's ethos aligns with their values. So, appropriate choice of language, appearance, eye contact, emotional and social intelligence, and even handling of the product during an interactive product demo can strike a customer's interest and result in subsequent purchases.

Continuous product training and assessment can also be quite valuable for the maximization of the potential of brand ambassadors. Training enhances product knowledge and keeps the reps up-to-date with new developments regarding the product and customer attitudes and behaviors. Assessment is necessary to ascertain individuals' suitability, capability, and capacity to serve the retail business as product demo personnel. 19% of customer initiatives have been found to incorporate demonstrations of the importance or purpose of a product.

It is an undeniable fact that a product demo is more like a business presentation. The opening remarks, interactive session, responding to questions, and closing remarks are all equally important. It would be tragic for a brand rep to veer off-topic or give wrong answers to customer queries during a product demo. To be safe, the business management must ensure only competent personnel are deployed to make demos to customers. That way, better brand ratings, and higher customer confidence will be relatively easy to achieve.
Seek Feedback on Product Demo Impact on CX
Don't let your efforts to make impactful product demos go up in smoke. How can a retailer or brand manager measure the extent of the impact of interactive product demos on customer experience? What's the best way to go about it?

Well, customer feedback is the most authentic reflection of the overall customer experience and the best way to gather data on customer experience. It is the backbone of customer experience strategy design. Asking customers to rate in-store product demos before they leave the store is an effective way of getting accurate customer feedback. That's because the memory of the demo experience is still fresh, and the emotions arising from the whole process are still intense.

The feedback helps the brand managers and retailers gather meaningful insights that help identify critical areas of product demo improvement, impact on customer experience and retention, and general customer thoughts on the in-person interactions with brand reps. It also helps keep tabs on the ever-evolving customer behavior and attitudes and understand how to treat them in the future to retain them for long-term engagement.
Get Customized Product Demo Solutions
It's typical for brands and retailers to get overwhelmed by the whole process of creating impactful in-store product demos. Sometimes, it can be quite stressful to figure out where to start. Don't fret, though.
At ThirdChannel, we have a fully dedicated team of brand reps and a wide range of in-store solutions to handle interactive product demos effectively. To get started, get in touch with us for a free demo from ThirdChannel and learn more about our customized product demo solutions.