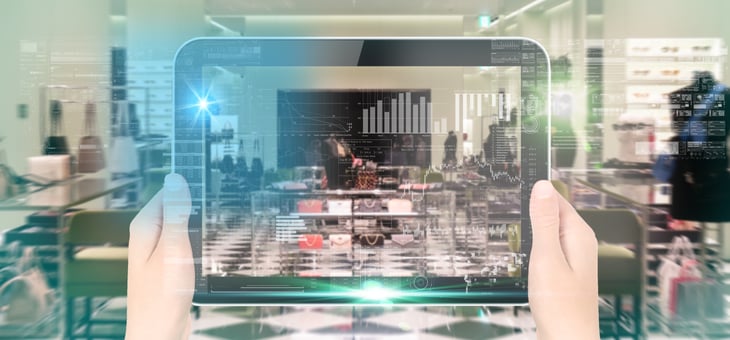 Global retail sales are expected to grow to 4.5% by the end of 2023, exceeding $30.3 trillion. And during this growth, consumer preferences, shopping habits, and the place of small businesses are changing in the retail industry.

With this growth come opportunities and risks. Unfortunately, some retailers rely on inputs limited to customer data, internal operations, and first-tier suppliers. Therefore, they can't analyze external data well and understand the risks and opportunities in the industry.
However, you should understand how factors such as competitor initiatives, shifting consumer behaviors, and geopolitical events affect your business—you can do this by analyzing external data.

This post discusses how the modern retailer can utilize data to anticipate consumer preferences, market risks, and opportunities.
Understanding retail analytics
Retail analytics refers to the process of providing analytical data on supply chain movement, inventory levels, consumer demands and preferences, sales, and more. This data helps make marketing and procurement decisions.

However, just about 24% of companies describe their organizations as data-driven. Yet, 97.2% of the companies claim they have (or are) invested in big data and AI projects.

But the few companies using big data solutions see their profit margins increase by up to 8%. So what does this mean for you as a retailer? You're missing out on a lot if you haven't started utilizing data to anticipate consumer preferences.
Customer insights
Today, consumers rely on technology to control the buying process and make shopping convenient. However, this is an excellent data-gathering opportunity that you should take advantage of. You must consider consumer purchasing decisions, shopping behaviors, and trends.
You must also combine all data across channels to understand consumers' buying preferences and habits.
Inventory control and personalization
How do you inform your shoppers about product availability? Well, if you have no idea, then we have one for you. You simply need to link your eCommerce storefront with real-time inventory data.
This will help you avoid downstream challenges and inefficiencies with substitute products and stock-outs. It's crucial for inventory management and store performance goals to see, work and utilize data.
Better marketing cycles
Sometimes it takes months to make your campaigns more effective and to drive sales. So how do you shorten this period?
You need to utilize advanced analytics. This can help you shorten the period it takes to drive sales from months to just a week or less.
What are some of the challenges retailers face in predictive analytics?
Retailers also face some challenges while attempting to use data to predict consumer preferences. Therefore, you must understand some of these blocks and how to navigate them effectively. They include:
Incomplete data- Poor data discipline leads to incomplete or garbage-filled files. You must collect accurate and necessary data to make accurate and informed decisions. Data inaccuracies can lead to poor decisions because you won't clearly understand your customers.


Too many options- How do you collect consumer data? There are various techniques and tools that can help you get accurate data. You also need tools to manage and turn the collected data into actionable insights. For instance, retailers need a retail analytics dashboard to visualize and report all essential retail key performance indicators in one central interface. Moreover, if you're using a customer experience management platform, you need accurate insights to understand consumer behavior and preferences.

However, with the many options available, finding an ideal retail analytics tool can be challenging. When choosing such tools, you need to consider various aspects such as cost, performance, and ease of use.

Choosing the right tool could lead to better data management and decision-making.


Brick and mortar- Data is not only for online retailers. Brick-and-mortar stores also need data to prosper. While some retailers are just focused on stocking shelves and racks, you should try to transform your physical locations into customer engagement centers.

If your store manager has access to powerful, easy-to-understand analytics, they can make smarter decisions with customers, on the shelf, or in the stock room quickly.


Mix and match metrics or reports- You must understand how different metrics relate to each other to get the most out of your data. Instead of analyzing each report independently, try to mix and match different reports to get more insights.

For instance, transaction counts and foot traffic data are both valuable metrics on their own. However, when analyzing your data, you need to look at these metrics as one to understand your conversion rate.
How predictive analytics can take your retail to the next level
Building an eCommerce website is just the beginning of your quest to boost sales and enhance customer experience. Predictive analytics is what you need to get your business to the next level. Here's how to use data to anticipate customer preferences and boost sales.
Understand customer behavior
Modern consumers now communicate with companies, their products, and services online and offline. This allows you to generate a huge amount of data about each customer and their preferences.

You can use this data to build predictive models and make data-driven decisions. This will also help you identify at-risk customers, improve campaign conversions, and increase revenue.
Enhance customer segmentation
You can utilize predictive analytics to segment and target your customer. The data allows you to analyze your customer's past behaviors and purchases and develop targeted marketing strategies.
Tips for using retail data analytics
Here are some tips to help you get the most out of your data:
Focus on the data that matters to you- Every business has unique goals, strategies, and objectives. What matters to you might not matter to another business, even if you're both in the same industry. Therefore, you should only focus on data and metrics crucial to your business.

While general reports like gross revenue are helpful, you need to dig deeper into metrics specific to your business.


Empower your customers- Your customers are essential to your business. Therefore you must always make them part of your every process. Encourage customers to share data through surveys, conversations, and other research methods. This helps you know them better and also builds trust with your customers.


Third-party solutions- You need to master data analytics to succeed. Sometimes, this may require you to tap into data outside your company's four walls.

Although using third-party data sources can be challenging, gaining an analytics edge to tap into data ecosystems is crucial.
Get customized data analytics
Data analytics is a clear path to meeting shopper expectations and driving strategy in a highly competitive, crowded market. However, retail reporting and analytics have changed, so you must adapt.

You can utilize third-party information to enhance your data analytics and understand customer preferences. However, this requires third-party technology, which can sometimes be challenging to use but delivers excellent results.

We can help you visualize, adapt and succeed with our assortment of reporting and analytics solutions. Schedule a demo to learn more about our solutions.