Five years ago when the term "omnichannel" first started being kicked around, I fought hard not to roll my eyes. Macy's was a huge advocate of this concept of growing out businesses to reach consumers on as many channels as possible, social, mobile apps, pop-up, mail, etc. While they saw profit margins of around 5% in 2014 (versus 3% for Walmart and 2% for Target), their omnichannel efforts failed to produce long-term sustainable results (as evidenced by their 100 store closings and continually disappointing financial results).
The problem was, for all its buzz, the concept of omnichannel missed the point.
"It's increasingly obvious that omnichannel isn't all it's cracked up to be," Steven Dennis wrote in his recent Forbes article, "Omnichannel is Dead. Long Live Omnichannel." Dennis tells me that "one of the problems is there hasn't been enough focus on the specifics of omnichannel. The other is too many think promoting ecommerce is the same as omnnichannel." Dennis points to Gartner's recent introduction and emphasis on digital-first retail as a more direct approach that brands and retailers should adopt.
"It's less about ecommerce per se and more about acting on the fact that most customer journeys start in a digital channel and end up in a physical store," he adds. "And if what you do is neither relevant nor remarkable, chances are you will lose no matter how 'omnichannel' a brand is."
Consumers do not overtly care about individual "channels." Instead, brands and retailers need to develop a digital business for overall shopper experience to keep consumers coming back for more.
Digital Retail Starts Online (But Doesn't End There)
Despite all the attention that Amazon gets, ecommerce still represents just a tiny fraction of overall retail sales. As Dennis points out, the sweet spot is "digitally influenced" physical store sales, as they dwarf online sales. In fact, 82% of consumers conduct research online before making purchases, yet only one-third of retailers believe their websites draw shoppers into the store.
To drive conversions in-stores, then, brands and retailers should be providing consumers with informative online content, explained Ken Au, Director of eCommerce at Abt Electronics in a recent webinar for TotalRetail. This can be simple: product details in an accessible format like bullet points, images of products at several different angles, reviews and FAQs.
Au's fellow presenter, Director of ecommerce, Garret Bluhm at the homeopathic pharmaceutical company, Hyland, suggests doing keyword research before publishing content online. Tools like SEO Chat, Google Keyword Planner or Amazon auto-suggest help identify the words or phrases most likely to lead consumers to a brand or retailer's products. Bluhm himself strives to use a minimum of 25 keywords in product content and has seen a 35% sales lift using them.
"Content is the lifeblood of ecommerce," Bluhm says, adding that 88% of consumers say content is extremely or very important to their decision-making process around shopping. What's more, Bluhm found 94% of consumers claim they will abandon a purchase if they cannot find product information.
Digital Drives In-Store Sales, Too
Online content lays the groundwork for the moment a consumer visits a store to make a purchase: a whopping 78% of local mobile searches result in offline purchases, according to comScore. To close the sale, brands and retailers must bridge the gap between the two experiences by offering consumers the same level of expertise they found online—and then some. A study from Deloitte identified knowledgeable sales associates as the top factor in delivering a powerful in-store shopper experience.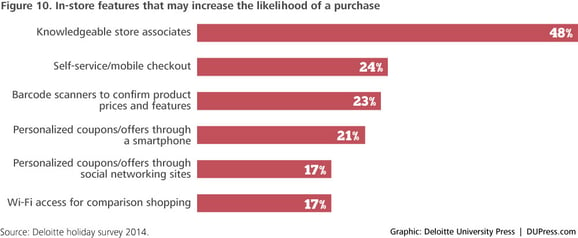 But rather than rehashing information consumers have already accessed online, associates and field agents are expected to share a different type of information—such as their personal experience with the product. This facilitates an authentic exchange of information between the shopper and associate—and drives sales. According to ThirdChannel data, retailer locations where an eyewear brand sent educated field agents to engage with shoppers outperformed locations that did not have brand field agents visit.
And just because consumers come to a brick-and-mortar doesn't mean they're opting out of digital. In a survey from mobile loyalty company SessionM, 90% of respondents report using their phones while shopping in stores. Digital-first stores winning consumer dollars are integrating mobile into the physical shopping experience by delivering relevant discounts and sales information directly to consumers' phones and offering mobile payment systems.
Digital is About the Right Channels
Omnichannel was about being everywhere at once, digital-first business is about only pursuing the channels appropriate for your consumers and giving them what they want in those specific channels. Let's use social media as an example: It may make sense for a car company to have a Facebook and Instagram account given where their consumers are going for information about cars: asking their friends for input, and looking at photos of the cars. It makes less sense for them to have a Twitter account, which is more focused on news and less suitable for sharing detailed product information.
This is digital-first thinking: identify where consumers are going for information about products, and focus on being a resource to shoppers on those channels.