Despite efforts across the retail industry to enhance the shopper experience, grocery stores have been slow to evolve in the digital age. One reason grocery stores may be slower to adjust is because they haven't seen the same degree of stagnation in sales as traditional retailers. In fact, according to a report published by NRF, the top three retailers going into 2016 all had a food market element in their physical stores.
So, why change a model that's not broken? The proliferation of pricing, point-of-sale and inventory technologies are upping the ante for the supermarket experience—promising to move even more product. Not to mention, grocery stores aren't entirely immune to the changing tides of retail: meal kit delivery services such as Blue Apron, which reported $960 million in annual sales in 2016, may be signaling a shift in how often and extensively consumers shop for groceries.
Grocers such as Kroger and Whole Foods have already begun testing new technologies in stores in an effort to modernize the grocery shopping experience for the digital age. Brands with products in grocery stores (and in any brick-and-mortar store) should be aware of the changes that are set to impact pricing, checkout and the shopper's experience—all meant to move product faster and more efficiently than before.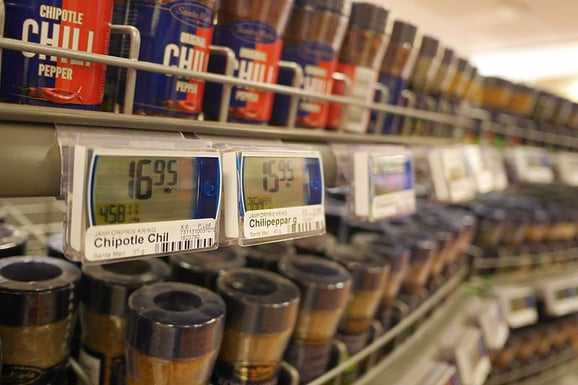 Franklin Heijnen | via WikiMedia Commons
A New Lease on Shelf Life
One of the major advancements in grocery store technology is the arrival of digital pricing displays. Installed on store shelves and controlled by software, these replace pricing stickers and allow stores to easily update prices from one, central location. The technology makes staff available to assist shoppers rather than spending their time swapping out pricing information across the store. Kroger, the largest supermarket chain in the country with over $1 billion in retail sales in 2015, has developed its own in-house pricing technology to make more of associates' time.
What's more, these displays allow grocers to change pricing quickly, meaning they can experiment with dynamic pricing—the ability to adjust pricing based on customer demand. This is a rather seamless process for ecommerce companies, but this new technology will help brick-and-mortars implement the strategy, as well. Whole Foods, for example, utilizes Panasonic's Powershelf technology in 40 of its U.S. stores to make its pricing more flexible. Powershelf's sensors can sense the weight of products to alert associates if a shelf is empty and needs to be restocked. If one flavor or variety of an item is out of stock, the shelving tech can recommend lowering prices for the remaining varieties since consumers have less to choose from. This helps Whole Foods move product faster—meaning better margins for the store and brands alike.
No Lines, No Waiting
Grocers are among the retailers experiencing foot-traffic dips and looking to technology to keep consumers coming in-stores by improving the shopping experience. For grocers, reducing wait-times and typical points of friction positions them to compete with the convenience of meal kit services or grocery delivery.
The checkout is one of the most notable areas to streamline—and is top-of-mind for many since the launch of Amazon Go's checkout-less system earlier this year. Kroger launched its Scan, Bag, Go feature to allow shoppers to scan items in stores and check out through its app—which has an adoption rate of over 20%. For those who don't use the app, Kroger utilizes QueVision, an infrared camera designed to track the number of shoppers in a store at any given time to allow store managers to optimize the number of checkout lanes open for minimal wait-times.
Kroger also uses video and analytics to speed up the lines at deli and pharmacy counters, too:
"If you're a pharmacist, your head is down at the computer, working," Kroger CIO Chris Hjelm told The Wall Street Journal. "We can alert you right on your display that you've got a customer who's been waiting for 60 seconds and no one's talked to them yet."
Super Marketing
For brands, one of the most exciting innovations is the ability of digital technology to communicate with consumers as they move through the aisles.
Accenture Interactive's creative technology studio, Chaotic Moon, is currently building out shopping carts equipped with tablets that shoppers can use to manage their grocery lists. Communicating with beacons in-stores, the tablets map out the shopping journey for the consumer and can push suggestions and relevant coupons as they make their way around the store.
Kroger is also developing its own in-house solution to facilitate a connection between its digital signage and consumer devices. Rolled out in 14 stores in the Cincinnati area, the experimental digital shelf labels can communicate with shoppers' devices through the Kroger app to guide them through the stores—whether that's directing them to the right product on crowded shelves or sending notifications about markdowns and deals related to their shopping-list. Though it may take several years before these capabilities are introduced throughout stores, brands can expect more targeted marketing opportunities as a result.
Integrating technology into every stage of the shopping journey has a residual benefit for grocers and brands alike: improving the in-store experience. Leveraging these new solutions brings the seamlessness and convenience consumers demand of online retail to the physical store, generating more loyal, more frequent customers as a result.