Assisted selling is a tried-and-true method brands use to drive sales in retail stores. The sales tactic involves companies sending brand champions into third-party retail stores to work alongside associates. Brand champions (brand representatives) engage consumers on the floor and answer questions, whether manning their brand's product displays or overseeing product demos. Most importantly, they're there to drive sales for the brand.
While assisted selling isn't a new practice, brands should look to it with fresh eyes as retailers adjust to new industry challenges. One way retailers have cut costs is by reducing the number of store associates on staff—since October 2016, department stores have eliminated 89,000 jobs—and have, by extension, reduced opportunities for consumer engagement. At the same time, consumers are demanding more associate assistance: 40% report their in-store shopping experience would be improved by a sales associate with a deep knowledge of products.
By sending their own representatives in-stores, brands not only support their third-party partners as they adjust to the new reality of retail, but also drive their own sales by increasing consumer engagement and familiarity with their products. This approach then lays the groundwork to drive in-store sales in the future—and give brands a competitive edge in retail stores.
Passion Sells Products
Having a brand champion in stores dedicated to fostering consumer engagement directly correlates to an increase in sales. For a leading eyewear brand, for example, one brand champion engaged 20 more consumers per quarter, and that store sold an average of three more products each week.
A dedicated representative also brings a much-needed familiarity with a brand's products and the needs of its specific target consumers. Most shoppers come to stores today prepared with product specs—in fact, according to a recent survey, 83% of consumers feel they're more knowledgeable than sales associates. Brand champions typically have firsthand experience with the products and, beyond regurgitating facts consumers already know, they can share personal anecdotes that bring product specs to life. This meaningful engagement is a key sales driver: According to a ThirdChannel survey, a majority of brand champions agreed that their passion for the product drove more sales than a product's price, features or quality.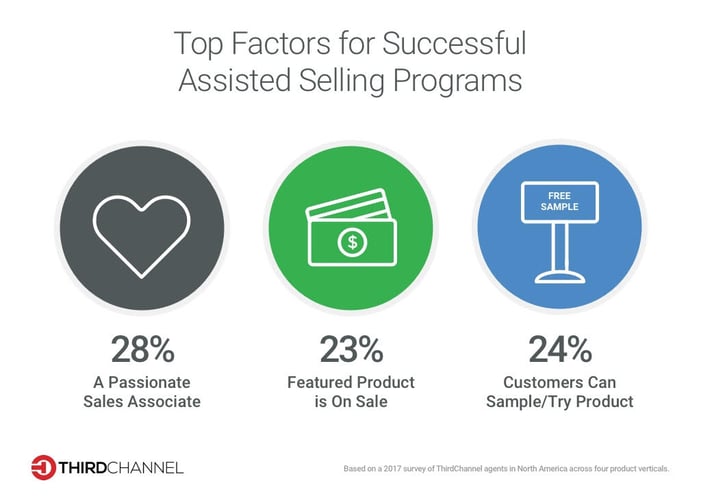 Drive Sales with Demos
77% of consumers report that the biggest advantage of shopping in stores is "the ability to touch, try on, and see products." To capitalize on this consumer behavior, brands should ensure demoing products through assisted selling programs is a fixture of their in-store activities. One popular, billion-dollar CPG brand has made sure to prioritize in-store demos, and has seen results. By setting up skincare demo tables within third-party retail stores, brand champions spoke with over 7,000 consumers, many of whom tried sunscreen samples. 30% of these consumers were new to the brand and were converted into paying customers.
To have a successful demo, ensure the store is prepared. Timing and communication between the brand and retailer are essential to keep this from ruining a demo or any other assisted selling event. CPG brands, for example, should ensure their retailer has enough product on hand to sell, and send a new shipment if they don't. If the retailer doesn't have enough staff to move product from back-stock to shelves during the demo, it may be in the brand's best interest to send additional brand representatives to pick up the slack. According to ThirdChannel data from a top home appliance brand, demos were the top reason consumers purchased a product.
Lift Sales Long-Term
Finally, brands should think of assisted selling as not only a way to boost sales at the time of the demo or other activity, but also as a long-term sales driver. Data from a major health and wellness brand showed that for four weeks after a demo took place, average sales in those stores increased 34% per week.
Assisted selling programs are also opportunities for brand representatives to leave some knowledge behind by educating associates. For example, ThirdChannel agents can have associates try the products to foster the first-hand experience that consumers find compelling.
"I took advantage of a slower traffic day to ensure that...associates were educated on...products, and had a chance to sample," said a rep executing a demo for the health and wellness brand. Data from a leading footwear company also reinforces the benefits of educating associates: when brand representatives trained at least two associates at one retail store, weekly sales increased 26%.
"It's really a partnership between the retailer and brand so the assisted selling program pays off for both," says Linda Cahan, a retail consultant in Portland, Oregon. "Assisted selling is an enhancement of the in-store experience, one that can't be found online.