Despite many recent news headlines, the retail industry overall is booming. Industry sales in 2017 are expected to rise by 3.8% again, outpacing the GDP growth at about 2.1% Even sales in brick and mortar stores, heavy with reports of declining foot traffic, are growing and comprise over 90% of consumers' purchases.
Still, big names in retail are struggling: Macy's, Sears and JCPenney are shuttering hundreds of stores while Payless ShoeSource, The Limited and American Apparel are closing down completely. But many businesses are thriving: from Sephora to Ulta, these retailers are making headlines for driving sales despite industry-wide challenges.
It's a classic case of survival of the fittest—retail's own version of Darwinism. Retailers that have not adapted their stores to delight the digital consumer are losing out to those with innovative methods for making brick-and-mortar consumers' preferred shopping destination. A closer look at retail success stories Bonobos, Bass Pro Shops and Ulta Beauty reveal in-store strategies for survival the digital age.
Store: Bonobos
Industry: Mens Clothing
Survival Tactic: The Unstore
Bonobos is a classic internet retailer turned in-store success story. Founded in 2007, the company grew into a major player in menswear. In 2011, the company began opening brick-and-mortar locations. But don't walk into a Bonobos and call it a "store." The company instead calls its 34 U.S. locations "guideshops." Rather than sell products, each guideshop allows shoppers to see and try on merchandise in person. They place an order for what they liked in-store, and the product is delivered to the consumer's home.
"They buy almost 75% more if they come in through the Guideshop," Bonobos founder and CEO Andy Dunn told eMarketer. "The reason is they're getting a human experience."
Think of it as a reverse of the click-and-collect model. Bonobos is capitalizing on the estimated that 73 percent of consumers that prefer seeing merchandise in person or trying it on before purchasing. With this model, the company also cuts the merchandising element of brick-and-mortar retail entirely, meaning in-store associates are freed from moving back-stock to help consumers.
For Bonobos, the store space is for trying, not buying, and so far it's found great success. The company has $150 million in annual sales and is being pursued by Walmart as an upscale acquisition.
Store: Bass Pro Shops
Industry: Sporting Goods
Survival Tactic: Retailtainment
While consumers still visit Bass Pro Shops for everything from fishing lures to flashlights, there's a new driving force behind their in-store visit: the Disneyworld-like experience the company has rolled out across many of its stores.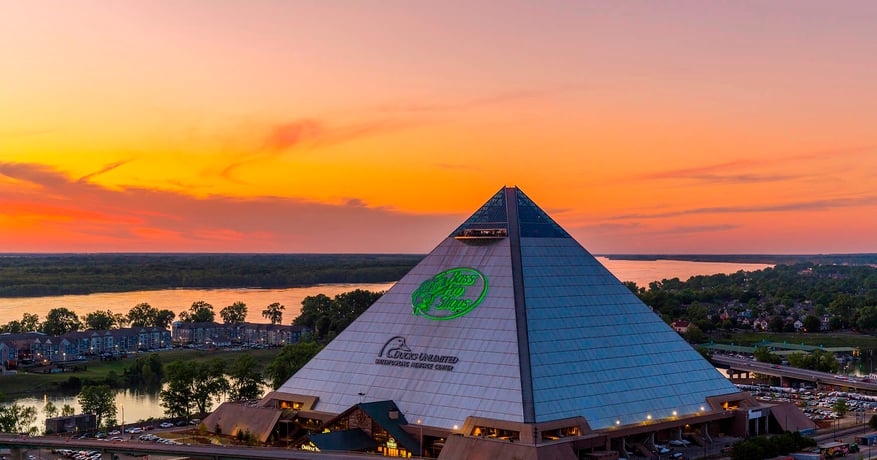 Photo Provided By Bass Pro
The Bass Pro Shops' Memphis location is its largest. The company took over complete operation of the famous Memphis Pyramid, which is 535,000 square feet and 32 stories high. Consumers can sleep overnight at one of the store's 105 hotel rooms, eat at one of its two in-store restaurants, and take in the Memphis skyline from the Pyramid's apex. Other attractions? A catfish aquarium, a cypress swamp with 100-foot trees, a Mississippi River boat launch and a full-sized bowling alley.
"This strategy separates them from the traditional model of 'big sale every weekend' marketing," says Mark Cohen, professor of marketing at Columbia University. "Customers have caught on and they need more to go to a store."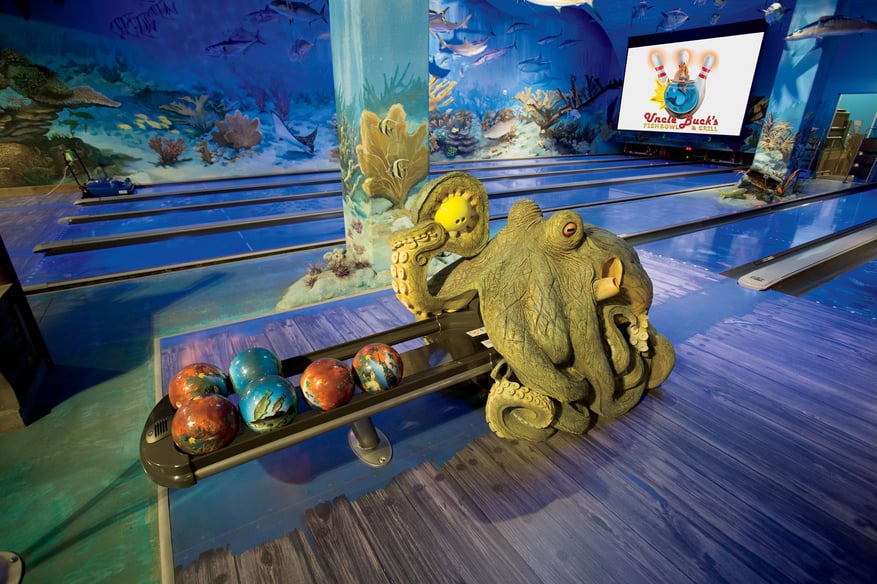 Photo Provided By Bass Pro
The tactic is certainly effective at drawing crowds: more than 120 million people annually enjoy the store's massive aquariums, restaurants, fishing ponds and even bowling. In fact, the average customer drives more than 50 miles to get to one of the 100 giant (some are up to 535,000 square-feet) outlets and spends upwards of 2.5 hours inside.
Store: Ulta Beauty
Industry: Cosmetics
Survival Tactic: One-Stop Shop
Ulta has been an under-the-radar success story for the past decade, though Wall Street knows the company well. Its share price has been hovering near the $300 mark, making it among the best performing retailers in the world.
The company owes its success to rethinking the traditional beauty industry, where different stores carry exclusively luxury, professional or budget beauty products. Ulta combined all three under one roof. The company incorporated beauty parlors into each store of its 990 stores. In doing so, Ulta turned its stores into a all-in-one location for beauty. The model's effectiveness shows in the growth of Ulta's loyalty program by 29 percent in 2016. Ultamate Rewards has a member base of 23 million, twice as many as Starbucks.
Survival of the Fittest
While these in-store strategies have proven effective in keeping Bass Pro Shops, Bonobos and Ulta successful, their continued survival will depend on their adaptability as the industry continues to evolve. Ulta, for example, has positioned itself well for the increased personalization retail consumers will expect down the line: the company can leverage insights from its loyalty program to craft its merchandise selection and hone marketing strategies. Other companies are placing bets on technology: according to a 2017 survey from retail management consulting firm BRP, 45% of retailers anticipate implementing artificial intelligence within the next three years. Brands and retailers alike will need to keep a close eye on trends like these to stay relevant and competitive and strive to push the envelope and explore new boundaries in the brick-and-mortar space to create one-of-a-kind, in-store experiences for consumers.