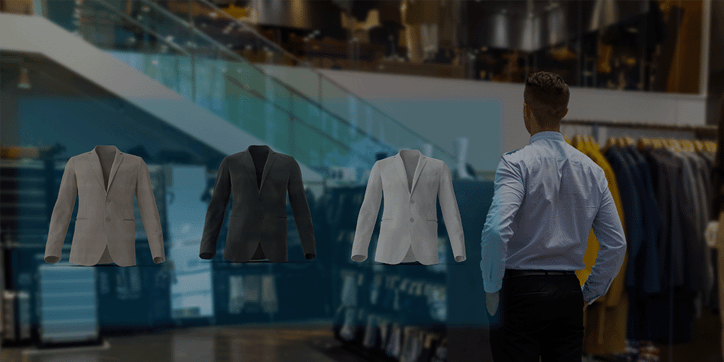 They say a picture is worth a thousand words, but what about a thousand sales?

From 3D product photography to augmented reality, retailers are using the power of visuals to create immersive shopping experiences that leave a lasting impression. They understand that customers want to be captivated, inspired, and engaged at every touchpoint — and that's why they're turning to visual commerce.

So, how do you harness this powerful strategy to connect with customers and drive sales? Read on to learn how to optimize visual commerce online and in-store to keep customers coming back for more.
First, What is Visual Commerce?
Imagine you're shopping for a pair of running shoes online. You visit a website, and all you see are rows of static product images with boring, plain white backgrounds. You scroll endlessly, but nothing stands out, so you leave the website overwhelmed and empty-handed.

Now, imagine the same scenario, but this time, you see an interactive image of the shoes: you can spin them around, change the color, and zoom in to get a better view. You also see images of the shoes in action, paired with different outfits and other accessories. It's a no-brainer which website you'd choose to buy from, right?

That's visual commerce in action.

At its core, visual commerce is about combining the power of storytelling and content marketing, connecting with customers through high-quality visual aids, personalization, and interactivity. It's about catering to your customers' needs and desires for more immersive experiences, online and in-store. It's about making your customers feel more confident in their purchasing decisions.

But visual commerce isn't just designed to make shopping more fun. It's also an incredibly powerful sales tool, considering that 67% of consumers say that the quality of a product image is "very important" in selecting and purchasing a product, and 63% of customers value a product's image more than they value product-specific information.

The bottom line? Time is precious, and modern consumers have little patience for product information overload. But with visual commerce, customers can easily grasp your brand identity and product offerings in a matter of seconds.

How Visual Commerce is Transforming the Way We Shop
From 3D product photography to visual configuration and augmented reality, the possibilities for creating immersive shopping experiences are endless.

Let's dive into a few visual commerce techniques that leading retailers are using:

Visual Configuration: Visual configuration is all about customization. With this technology, customers can design their own products using a simple interface, allowing them to see a product in different colors, shapes, and sizes. Take Wayfair's 3D Room Planner as an example, which uses visual configuration to allow customers to view how a piece of furniture will look in their living room. They can alter the color of a chair, for instance, and place it in a virtual room that is similar to their own, then add or remove pillows and artwork to see how it would look with different interior design schemes.

3D Product Photography: Online shoppers don't have the luxury of physically engaging with a product like they would in a brick-and-mortar store. 3D product photography, however, enables customers to see items from multiple angles, giving them a better sense of what they're buying. BMW's "build your own car" webpage, for example, uses hyper-realistic, fully-rotatable images so customers can explore each feature of their dream car in vivid detail. From the luxurious leather seats to the high-tech infotainment system, the 3D images provide a level of personalization and interactivity that sets BMW apart from other car manufacturers.

Augmented Reality: Augmented reality (AR) is taking the retail world by storm, and for good reason: 80% of consumers stated they'd feel more confident in buying a product if they get to experience it first with AR, according to a study commissioned by Snap and Publicis Exchange Media. AR not only provides a more interactive experience, but also reduces the risk of customers bringing the wrong product home — one of the many reasons why Warby Parker's mobile app uses AR to allow customers to "try on" different pairs of glasses using their smartphones.

The Art and Science of In-Store Visual Commerce



Here's a fact that might surprise you: nearly half of all shoppers prefer to do their shopping in-store.

According to research by Radiant, 44.4% of consumers still enjoy the experience of physically browsing products and making purchases in person. And as a retailer, this means that your visual commerce strategy can be the deciding factor in your success.

Visual commerce is more than just a clever marketing strategy — it's an art form that relies on creating irresistible focal points. Imagine walking past a high-end clothing store and being drawn in by a stunning display of handbags and accessories at the front of the store: creating visually striking displays lures in customers and motivates them to browse the rest of your merchandise.

Effective use of space is another vital component of visual commerce. By strategically placing products and creating a logical flow within the store, you can encourage customers to explore and discover new items. For instance, placing impulse buys near the checkout can boost sales, as customers are more likely to grab an item when they're waiting in line.

While aesthetics can certainly impress shoppers and make them repeat customers, a true connection with customers goes far beyond visual appeal. That's where partnering with expert brand reps comes in. These professionals know how to tap into the emotional side of shopping, offering guidance, sharing personal insights, and building relationships that foster loyalty and help shoppers feel truly understood. And with their expertise in visual merchandising, they can also help you create a space that aligns with your brand's vision, and draws customers in from the moment they walk through the door.

From Browsers to Buyers: Optimizing Online Visual Commerce



The homepage of your ecommerce website is like a window display in a physical store because it's the first impression potential customers have of your brand.

Just like poor visual merchandising can hurt foot traffic in brick-and-mortar stores, your online visual commerce strategy can make or break sales. Here are some ways to optimize it:

Showcase new products: Just like a physical store, showcasing new products on your homepage creates a sense of excitement and urgency for customers to check out what's new. Use high-quality images and videos to entice customers to click through and learn more.
Highlight bestsellers: By showcasing your bestsellers on your homepage, you're highlighting the most popular items that customers love — which can help build trust and increase sales. Consider using social proof, like star ratings and customer reviews, to further motivate customers to make a purchase.
Use rotating hero banners: By rotating hero banners, you can highlight different products or promotions throughout the year and keep your homepage fresh and up-to-date. Just make sure each banner is visually appealing and adds value for the customer.
Make it easy to navigate: Similar to signage in a well-organized physical store, your ecommerce website should be easy to navigate so customers can quickly find what they're looking for. Use clear categories, subcategories, and filters to help customers narrow down their search and find exactly what they need.
Optimize checkout: Once customers have added items to their cart, make sure the checkout process is as smooth and easy as possible. Consider offering guest checkout options, minimizing the number of required fields, and providing variety in shipping options including in-store pickup.

Add the Human Touch to Visual Commerce with ThirdChannel



While tools like visual configuration, 3D product photography, and augmented reality can help businesses engage customers and drive sales, it's often the people behind the scenes who bring these experiences to life.

Expert brand reps, who know your products inside and out and understand your customers' needs and desires, can help create a consistent and compelling visual merchandising strategy that resonates across all channels.

At ThirdChannel, we believe in the power of creating meaningful shopping experiences that stay with customers long after they leave your store. With our state-of-the-art retail software and knowledgeable brand reps, we can help you create a retail space that is both welcoming and immersive, whether it's in-person or online. Schedule a demo today.