Most American department stores have a familiar look and feel: overhead florescent lighting and aisles of metal racks accented with discount signs. Products are organized into categories and competitive brands are displayed alongside each other. Shopping for athletic wear at Kohl's looks remarkably similar to shopping for the same clothing at Target. It's retail déjà vu.
Action Items:
Brands should consider the concession model as a way to better communicate with its retail partners.

Strive for consistency between the retailer and the shop-within-the-shop. Prepare for consumer expectations of a seamless experience between both.

Understand the fine print of the legal agreement when entering into a concession agreement.
Now, imagine a store with spaces dedicated entirely to Cuisinart or Under Armour and designed to match each brand's identity. Seems like a better experience. This store-within-a-store setup is better known as a concession model. Retailers receive rent or a commission off a brand's in-store sales, while brands have access to a retailer's foot traffic and have control of the consumer's experience with their product.
The setup also gives brands the responsibility for things like inventory management and driving sales, something retailers—especially those struggling to stay afloat—don't have the capacity to do anymore. Implementing a concession model, therefore, seems like a natural solution to retail's current challenges, which also include a growing demand from consumers for more personalized experiences with products. But despite its promises, the concession model isn't a one-size-fits-all proposition. Brands and retailers need to grasp the ins-and-outs of the concession model before they dive in head first.
As Competition Gets Stiffer, Concessions Grows
Concession-model stores are nothing new: Many foreign department stores operate this way. London's Selfridges is well-known for its brand concessions, encouraging each boutique within its department store to stand out on the store floor and experiment with consumer experience. The retailer reported an increase in its operating profit at the end of 2014—a time when other department stores began to struggle.
Although European and Asian retail markets have been historically bullish on this model, American retailers have been hesitant. In 2011, Prada stopped selling product to Barneys after the retailer denied the brand's request to operate as a concession within the New York department store. According to the Wall Street Journal, a spokesperson from Barneys said the retailer wasn't willing to give up its "point of view" within the store.
But as stores continue to shutter and bottom-line pressure grows, many American retailers are rethinking the value of "point of view."
"When there is higher retailer competition, you will see this concept more," says Kinshuk Jerath, associate professor of Business at Columbia University's business school. Big retailers like Macy's and Dick's Sporting Goods are already exploring the concession model and they, together with their brands, are benefiting. During its 2017 Q4 earnings conference call, Finish Line announced that its boutiques in Macy's saw a 30% lift in annual sales with a 35% increase in Q4.
The Give and Take of Concessions
While brands find new agency within retailers with the concession model, it can be tightrope to walk, according to Giuliano Iannaccone, chair of the international and retail practice groups at law firm Tarter Krinsky & Drogin.
"Under this model, the brand has wider discretion on whether it intends to participate in any markdowns, discounts, promotions and loyalty programs offered by the department store," says Iannaccone. While brands have more freedom, they must be careful to consider the retailer's audience in making decisions. A brand may choose not to participate in a retailer's rewards program, for example, but they should think about how a consumer will respond if rewards points don't apply with the brand.
"You're in Macy's," Renna explains from the shopper's perspective. "You want to expect all the things that you can get at a Macy's to be done right in front of you. You don't want to be told I need to go stand in another line, or do something else."
To mitigate this possible disconnect, Jeremy Renna, former vice president of leased, strategic planning and vendor collaboration at Macy's, advises brands to train employees to have a basic understanding of how the retailer operates. This way, both retailer and brand can maintain a good relationship.
As much as the arrangement tries to align brands and retailers around one goal, this kind of competition for control over the environment arises in other areas, too. Employment, for example, becomes an issue, when both brand and retailer have different priorities for what kind of experience their employees should be offering consumers. Whether transactions take place through the retailer or through the brand is another common point of contention.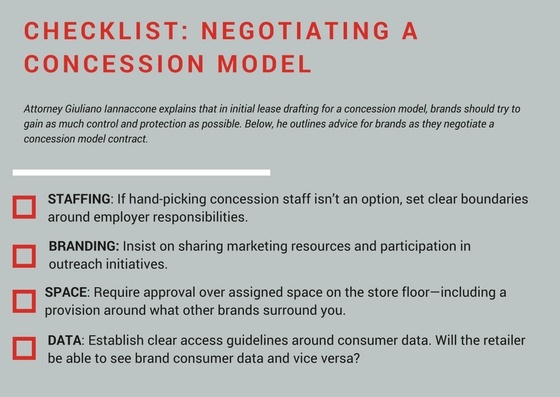 The financial equation, too, changes the relationship between brands and retailers. Retailers are often happy to make the switch because brands share a portion of their rent under the concession model. The retailer also takes on less risk in this arrangement, avoiding purchasing product wholesale from the brand. While brands shoulder more of the financial burden, they're typically avoiding the much higher costs by opening their own brick-and-mortar stores and maintaining the flexibility of short-term leases.
There's no doubt that many brands will find the concession model attractive. And as retailers reinvent the retail store of the future in order keep bankruptcy at bay, the concession model is becoming more widely adopted. And while the concession model can work well once it's in place, reaching an agreement that suits both sides is a huge hurdle—and brands should note it's an agreement that comes with a lot of fine print. Ultimately, brands and retailers need to keep communication open and clear to navigate the model effectively and reap its many rewards.
Liked this topic? Read more at: Future of In-store Retail