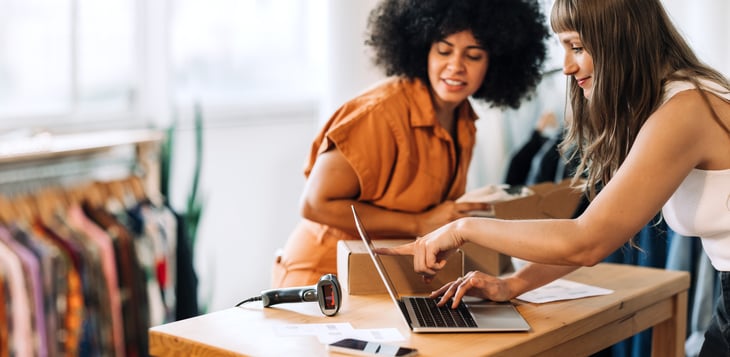 Customers expect more from their online shopping experience than just high-quality products and sleek branding.

They're after that extra something we all crave: a humanized experience. They want reassurance that shopping will be just as easy, personalized, and secure online as it is in store, and they want to feel valued as your customer.

That's where customer experience management (CXM) comes in.
CXM offers shoppers what they're craving — a seamless ecommerce experience that puts them in the driver's seat and entices them to come back for more. Prioritizing CXM is a win-win for brands, too, considering that 61% of consumers don't mind paying more if they know it means getting a top-tier customer experience.

So, what's the secret to creating an unforgettable ecommerce experience? Check out our tips for providing standout service that turns online customers into loyal fans.
Why CXM Should Be Priority No. 1
Online shopping experiences that fail to impress customers can be harder for them — and their peers — to forget. It's no surprise, then, why 77% of brands believe customer experience is a key competitive differentiator; they know anything less than a positive encounter could cost valuable sales and recurring business.

Crafting a memorable ecommerce experience is all about putting customers first, every step of the way. Whether it's fine-tuning product search features, enabling frictionless payments or sharing product recommendations, outstanding CXM turns even the most ordinary transactions into something extraordinary. Most importantly, it connects every touchpoint so customers have a cohesive experience, no matter where or when they interact with you.
The Consequences of Poor CXM
We've all been there: one minute you're meticulously adding products to your basket, then suddenly they vanish when you switch devices.

Customer experience mishaps like these — e.g., having a website with a buggy checkout process or a difficult interface — can have serious consequences for your brand. And since 73% of consumers point to customer experience as a key consideration in their purchasing decisions, CXM is crucial for pinpointing and patching the weak links in your ecommerce buyer's journey.

Here's where companies often go wrong with customer experience, and how it impacts customers:
Blending Tools & Talent: 3 Ways to Enhance Your Ecommerce Experience
Maintaining a winning customer experience online is an art form. With attention spans fleeting and first impressions critical, getting it right from the outset will help you convert customers into loyal brand advocates.

Here are three things you can do to deliver a standout ecommerce experience:
Combine AI chatbots with live customer service agents. Chatbots can be great for quickly giving customers the answers they need, but shoppers don't always want robotic responses. In fact, 71% of consumers said they would be less likely to use a brand if it didn't have human customer service representatives available. Sometimes questions require genuine empathy and emotional connection, and getting advice from trustworthy brand reps can turn one-time buyers into lifelong patrons. That's why it pays to combine bots with live agents; combining both gives you speedy service while maintaining your customer satisfaction levels.


Elevate your brand experience with devoted brand reps. Replicating that in-store feel for online customers can be tricky. But having passionate brand representatives available to answer questions and share advice is the type of customer support that no algorithm can match. ThirdChannel, for example, has a network of more than 250,000 brand reps — all carefully matched with brands through rigorous selection criteria like expertise, passion, availability and geography — to provide one-on-one support and ensure customers are confident in their purchasing decisions. Plus, with our innovative ecommerce chat platform, shoppers can interact with brand reps in real time and get virtual product comparisons.


Optimize your omnichannel approach. When purchasing decisions are made behind a screen, it's easy to forget that brand reps still have a hand in steering the experience. But they provide thoughtful guidance and collect valuable data, in store and online, to ensure a seamless experience across all channels. Their insights inform what recommended products show up in the sidebar; their guidance helps shoppers find what they need quickly or make suitable exchanges. Pair their insights with easy-to-use software, and you'll know exactly what your store has in stock, where it is, and what options are available if your store is out. This seamless digital integration gives you valuable real-time insights into buying habits and store performance, so everyone's on the same page no matter where shoppers click or stroll in.
Elevate Your Ecommerce Strategy with ThirdChannel

Brands who prioritize CXM understand that, no matter what industry they're in, unforgettable shopping experiences reign supreme.

Crafting a great ecommerce environment requires smart technology — like a managed live chat platform and brand rep management software — not to mention dedicated brand reps who understand what makes your customers tick.

When you invest the time needed into CXM, it pays off in the form of repeat business, glowing reviews, and long-term loyalty. Schedule a customized demo to learn how ThirdChannel can help you elevate your ecommerce shopping experience.