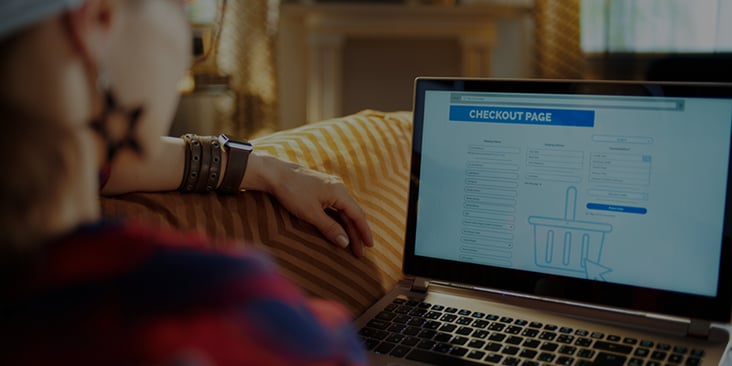 The retail industry is no stranger to change, but few trends have been as significant as the rise of social commerce.
Over the last decade, social media platforms such as Instagram and Facebook have evolved from being casual hangouts to full-fledged marketplaces where customers can browse and purchase products directly from their feeds. Its sheer impact can't be ignored, with Statista projections estimating that by 2026, global social commerce sales will reach nearly $3 trillion.
But are you ready to adapt and tap into this buzzing new retail landscape? What does it take to be a social commerce success story? In this blog, we'll dive into the intricacies of social commerce, sharing trends and strategies to help you unlock its full potential.

Building Trust Takes Time, but the Rewards are Worth It
In the competitive world of social commerce, trust and reputation are everything. But with so many dubious vendors and fake accounts lurking in the shadows, it's easy to understand why some consumers are still skeptical of initiating purchases through social media.

Many consumers are wary not only of vendors, but also of the social networks they operate within — more specifically, having to share their financial information on these platforms. One of their chief concerns? Whether or not purchases will be protected or refunded, according to this Accenture survey.

To calm these fears and instill confidence in potential buyers, retailers should:
Be transparent. When you disclose everything from return policies to pricing in a genuinely open and honest way, you indicate to your customers that your brand has nothing to hide.
Provide social proof. Share customer reviews and user-generated content to prove that your brand is reputable and beloved by others. Also, conduct social listening to gather critical feedback and ensure customers feel seen and heard.
Prioritize customer service. Offering hassle-free purchase protection, secure payment processing, and reliable fulfillment indicates that customers can trust you with their hard-earned money. But more than just offering protection, exceptional customer service is about following through on these promises, every time.

Convincing potential customers to trust you is no small feat, but considering that the average annual spend per social buyer is projected to reach $937 in 2025 — the potential rewards are immense.
From Generation Z to Influencer Marketing:
Four Major Trends in Social Commerce
For many retailers, integrating social commerce into brand strategy feels like navigating the Wild West: there are no rulebooks, little guidance, and high stakes.

But now that social media eats up one-third of the total time that people spend using the internet, the potential payout is too good to ignore.

From generational influence to social shopping and beyond, let's take a look at a few of the leading trends in social commerce:
The Gen-Z Impact: Generation Z's digital native status gives social media significant sway over purchasing decisions. Today, they rely on social media more than search engines to research, evaluate, and buy products. The key to winning Gen Z consumers over? Authenticity. This socially conscious demographic is influenced by social media influencers and brand ambassadors that align with their values, making influencer marketing strategies increasingly essential for retailers.


Shoppable Posts: Social media platforms have revolutionized the way retailers can reach out to customers, and vice versa. Thanks to innovative features such as Instagram's "shoppable posts," shoppers can now discover and buy products without ever leaving their feeds. By breaking down the barriers between retailers and consumers, brands can provide a seamless shopping experience that is effortless, personalized, and in-the-moment.


Immersive Technology: With so many brands vying for customers' attention, it's essential to stand out from the crowd. Immersive technology such as virtual auctions, live streaming, and augmented reality (AR) and virtual reality (VR) are great ways to engage shoppers, especially those unfamiliar with your brand. With AR in particular, brands can help customers see how products would look and feel before making a purchase, boosting confidence in their decision to buy.


Influencer Marketing: By partnering with influencers, retailers can tap into their authentic and relatable endorsements to reach millions of potential customers. Not only is it cost-effective and efficient, with an impressive return on investment, but it also connects you to your audience on a deeper level. By engaging influencers to tell compelling stories, your brand can forge an authentic and emotional bond with your target audience.
Humanizing Online Shopping:
Managed Live Chat's Role in Social Commerce Strategy

Social commerce is all about being in tune with your customers and crafting a personalized experience just for them. There's no one cookie-cutter approach that works for everyone; each customer is unique, with different preferences and levels of social media literacy. And to truly succeed in the world of social commerce, retailers need to have a strategy that goes beyond just implementing a few tactics.

Crafting a flawless strategy involves first building trust with new customers who might be skeptical about social commerce. Make sure to provide all the necessary information, like product information, pricing, and customer service, right at their fingertips. As customers become more comfortable with social commerce, you can get a little more sophisticated and introduce advanced social features like live streaming, interactive product demos, user-generated content, and more.

But here's the thing, no matter how proficient your customers are with social media, they still want a personalized, human touch. That's why managed live chat solutions like ThirdChannel's are such a crucial part of a successful social commerce strategy. They provide a friendly, authentic shopping experience that feels like you're shopping with your best friend. Instead of frustrating robotic answers, knowledgeable brand representatives provide suggestions on the best products for your customers' needs, share honest feedback, and offer seamless assistance that takes the hassle out of online shopping.

Are you ready to give your customers the kind of personalized online experience they crave? Schedule a free demo to see how our managed live chat solution works seamlessly with your social commerce strategy.